Notes from the Neva: Indian flavours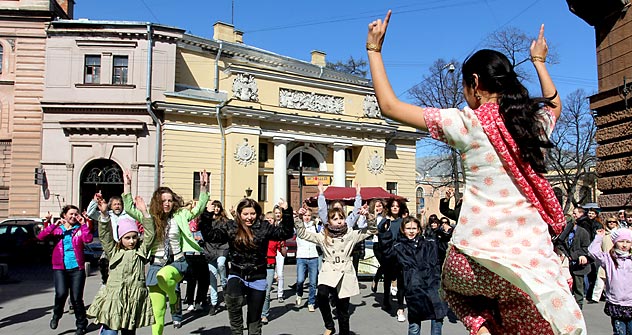 "Open India" festival in St. Petersburg. Source: PhotoXpress
In this 2-part series, Ajay Kamalakaran goes local in the northern capital of St Petersburg.
The mere mention of the word India was enough to light up the eyes of Dima, who was waiting on a table at a popular restaurant. The young man had been to India a year earlier and the country left a lasting impression. I would have been happy to assume that he spent a few weeks getting a tan in the Russian-friendly village of Airambol in North Goa. Or he could have been on a so-called Golden Triangle visit to Delhi, Agra and Jaipur. Dima surprised me by telling me that his favourite place in the country is Mughal Sarai!
Without offending any reader from the state of Uttar Pradesh, I would like to say that Mughal Sarai, which is close to Varanasi is a tiny town with a railway junction and its only claim to fame is in being the birthplace of India's second Prime Minister Lal Bahadur Shastri. "This is where I saw the real India," Dima said referring to roadside tea shops and eateries. Dima, who turned out to be the owner of the restaurant, has also translated 2 books of the late-meditation guru Osho. The modest young man spoke of how much Osho's philosophy has helped him build a sound business model.
For many in St Petersburg, India is still the country depicted in old Bollywood movies. Cinema can actually be an excellent medium to convey changes in a society and the way a country sees itself. The new face of India was on display during the 'Open India' cultural festival that was held in April to mark the 65th anniversary of diplomatic relations between Russia and India. Fifteen films were shown in the city's Mirazh and Avrora theatres, including 'Jab We Met,' 'Taare Zameen Par' and the biggest blockbuster in the history of Indian cinema, '3 Idiots.' Although, Aamir Khan couldn't make it for the festival, Sharman Joshi, who plays one of the idiots in the film, was present in the city for its opening as well as the screening of the comedy.
Interactions with St Petersburgers of all age-groups brought me to the conclusion that there are still many people in the city who crave for Indian cinema. There were passionate pleas from Russian Shah Rukh Khan fans to our new Twitter page to highlight the fact that distributors in Russia ignore the demand for Indian films. St Petersburg has already been featured by Bollywood, with the city being the setting of Salman Khan's 'Lucky' in 2004.
The 'Open India' festival brought with it other facets of Indian culture like street theatre performances, fashion shows, a Qawali music concert and even tasting sessions of Indian cuisine. Moscow has its fair share of Indian restaurants but St Petersburgers complain that the city has very few options. Lara Melyokina, a sworn vegetarian, believes there's a fortune to be made for an Indian to set up shop in the city and open an Indian vegetarian restaurant. "Vegetarianism is such a trend that many cafes and restaurants in the city have a lot of vegetarian items on the menu," she says adding that Indians know how to make good cuisine "without killing poor animals."
It isn't just at cultural festivals that St Petersburgers get a taste of India. There is a small community of Indian students, mostly studying medicine and a handful of Indo-Russian couples who choose to divide their time between the countries. One of the most ambitious private initiatives to promote Indian culture in the city is the Apsara Theatre. Run by Elena Tarasova, Apsara regularly stages performances of classical Indian and fusion dances.
Tarasova, who has spent close to 25 years in learning dances such as kuchipudi, kathak, mohiniattam and bharatanatyam, also founded the centre for Indian culture in St Petersburg. At the moment over 70 students are enrolled in various Indian classical, fusion and Bollywood style dances at Apsara.
It did not take much convincing for me to understand that there were quite a few people in the city that had a special liking for India. The biggest surprise came to me late in the evening when I walked around the city's largest square. Celebrations were on to mark St Petersburg's birthday with the square being the venue for a host of cultural programmes. As I walked near the heart of the square, I suddenly heard "chama chama," an old Hindi song being played from a loudspeaker and applauses to the music and the fine choreographed dancing that followed. So popular was Hindi music that it even managed to find a place in the official birthday celebrations of Russia's most European city.
St Petersburg can be a lot more for Indians than just a romantic holiday destination. The city hungers for Indian culture, music and food and could easily use a few enterprising Indians with ideas to satiate this growing appetite for Indian flavours.
All rights reserved by Rossiyskaya Gazeta.