After loss to Greece, Fursenko falls on his sword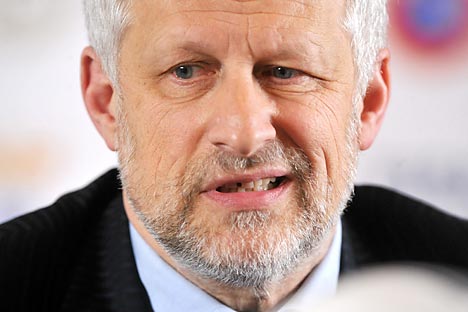 Sergei Fursenko, former president of the Russian Football Union (RFU). Source: ITAR-TASS
Russia's unexpectedly swift exit from Euro-2012 led to the resignation of Sergei Fursenko, president of the Russian Football Union (RFU). And that's not all.
The Russians failed to make it into the last eight in the European championship, which is currently being held in Poland and Ukraine. After defeating the Czech Republic 4:1 in its opening match, the Russian team appeared set to cruise to the playoff stages. But the team, coached by Dick Advocaat, drew 1:1 against Poland despite overwhelming possession and numerous chances lost by a single goal to the Greeks, a defeat that stunned the nation.
Vitaly Mutko, the Sports Minister, appearing on Rossiya-2 channel, launched a searing attack on the RFU's performance and did not rule out that Fursenko, a friend of Putin's, would be sacked.
Fursenko announced Monday that he was quitting. "Unfortunately, the Russian team has dropped out of the Euro-2012," Fursenko told the president, according to RIA Novosti. "It is a shame because it was a very strong team and Dick Advocaat did a good job."
"I would like to apologize to the fans for this result," he added. "I have made the difficult decision to leave the post of President of the Russian Football Union."
Putin accepted Fursenko's resignation but asked him to remain on as Russia's representative at UEFA, the governing body of European soccer.
"Russia should not lose that seat," said Putin.
Among the candidates tipped to replace Fursenko are Arkady Dvorkovich, a deputy prime minister, Boris Gryzlov, a leading figure in the ruling United Russia party, and even Mutko himself.
"Mutko would combine the two jobs", a source familiar with the situation told RIA Novosti.
The RFU will now need to call an extraordinary conference to elect its new head. Meanwhile, Nikita Simonyan, a former international player, is the acting RFU President. Advocaat, the chief coach, will also be replaced with Valery Gazzaev, a former manager, and the likeliest candidate to succeed him.
Fursenko's tenure is likely to be remembered as a failure, particularly the appointment of Advocaat as coach. The Dutchman was reported to be the highest-paid coach in Europe but he couldn't guide the team into the final eight in what was ostensibly an easy group.
"Giving respect to Greece, they were hard to play against in the second half," said Advocaat. "I'm not really too interested in what others say about me. My staff worked really hard, we were undefeated for 16 matches. We were unfortunate. We should have won today but that's football so compliments to Greece."
This is an abridged version of the article first published at gazeta.ru. You can find the full version in Russian here: http://www.gazeta.ru/sport/rfc/2012/06a_4642041.shtml
All rights reserved by Rossiyskaya Gazeta.