Spending summer intertwined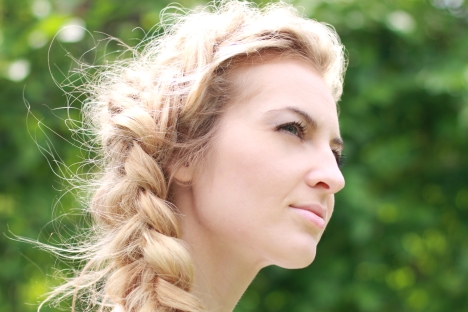 Source: Lori / Legion Media
It seems that braids are the most fashionable summer trend in Moscow for young women.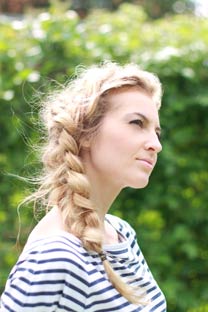 Source: Lori / Legion Media
In ancient Rus, one braid was the traditional hairdo for young unmarried women. A three-strand braid was set low in the back of the head and decorated with ribbons and lacing, as well as with flowers in summer. Married women were not allowed to show their braids, wearing headdresses to cover the hair.
Today these simple braids have taken a backseat to inside-out or Greek braids, which wrap around the head. Moscow fashionistas like to combine the Greek hairdo with chiffon maxi skirts and lightweight sandals to create the image of ancient Greek goddesses.
"It's not as difficult as it may seem. I've watched an online tutorial and now whenever I want a pretty hairdo, I braid my hair," said Irina, whose beautiful blond hair was curled around her head.
Indeed, the Internet is filled with numerous videos offering braid-making tutorials. There are instructions for flat braids, Greek braids, fish-tail braids, among others.
But for those less talented with hair, there are professionals. Braiding has become a very profitable business. "Almost all hairdressing salons offer their braiding services, but ladies most often prefer having their hair braided in studios in trade centers, because it's cheaper. If a salon braid costs as much as other hairstyling sessions, some 2,000 rubles ($60), a braid from a trade center would cost 300—600 rubles ($10-$20)," said Olga, a hairdressing student.
In less than a year, small braiding studios with several chairs and stylists have opened in nearly every large trade center in Moscow.
"We have been working here for a year. Among our customers there are children, girls, women and even grannies," said Evgenia from the Voila salon. She can make a braided hairdo in less than 10 minutes. Evgenia herself sports a side braid decorated with a delicate pink flower. Evgenia did not say how many braids she makes a day, but the company's site states that each studio services 80 to 150 people every day.
Braid-making has become so popular that people in other professions have decided to try a change of careers.
"My friend was 35 and working as an economist when she decided to quit her job and start making braids," said Anna, a Muscovite and a professional journalist. "And seeing her lifestyle today, I assume that this job ended up being even more profitable than her previous occupation. The only downside I saw was when we went on a trip with a large group of friends, and my friend couldn't relax, as she kept making braids for all the children and girls in the company. Everyone was wearing braids during the whole trip."
All rights reserved by Rossiyskaya Gazeta.