Emotions subside (Day 14)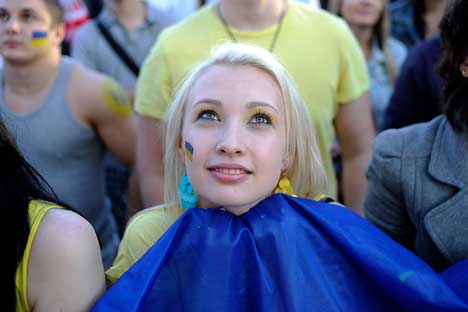 Three days have passed after the Russia-Poland game. But until now, this has been the most high-profile event of the championship, especially for the residents of Poland. Every new Polish friend is interested in my opinion on that day events: a taxi driver, a cheerleader in the fan zone, a CouchSurfing host. They know about the daytime events in general. Nobody knows about the clashes with police that night, about the Russians beaten in the streets having their attributes torn off. Still, they condemn the actions of their fellow citizens, who arranged all of these disorders. But at the same time, they do it gently, letting me know that Russians are also to blame.
Supporters of Ukraine and France, who live in Warsaw, came to enjoy football on a big screen and have a good time. Ukrainians are noticeably more in number. Poland is a great opportunity for them to escape from their country to study or work. The wages are higher and the life is more convenient here. And at the same time you're abroad. Dina Shevchenko arrived six months ago from the Crimea. She likes it here, although she has hardly seen any Poland. She does not have days off – she works as a nanny for a 92-year-old Polish elderly lady. Grandma loves to talk, so Dina learned Polish in a couple of months. "Our languages are pretty similar too. Learning it was easy," she adds. Today, she asked to leave early to go to the fan zone and cheer her team up.
The boys from Ukraine get acquainted with girls from Ukraine, the boys from France - with the girls from France, the Ukrainian girls get acquainted with everybody, they smile friendly and cast appealing glances, the French girls are more reserved, and lower their eyes flirtatiously or are enthusiastically watching football. A French fan wore a beret, his team shirt, and brought a baguette, which soars triumphantly above his head with every French team goal. But by the end of the game, there is only a half of baguette left – he's given the rest to the girls and friends for a treat.
All rights reserved by Rossiyskaya Gazeta.