New laser can detect drugs and counterfeit art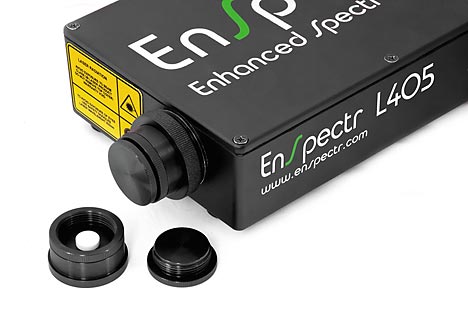 The compact raman and luminescence analyzer EnSpectr can rapidly identify microparticles in organic and inorganic substances. Source: Press Photo
Russian-made device uses two types of spectroscopy to evaluate the characteristics of a substance.
Russian scientists from RamMix have designed a unique laser device that can determine the composition of liquids through glass or plastic, identify counterfeit products, and even find drugs.
"We at RamMix have developed the compact raman and luminescence analyzer EnSpectr, which can rapidly identify microparticles in organic and inorganic substances," said RamMix Marketing Director Alexei Steblyov. "The device can identify a substance without a sample within just a second, leaving the packaging intact."
According to its producers, the device has enormous potential. It can be used to instantaneously determine counterfeit products in the pharmaceuticals, chemical and petrochemical industries. Additionally, it could identify explosive, highly toxic and narcotic substances during security control at checkpoints.
"Our advantage is that our testing method is fast, noninvasive and super-accurate," Steblyov said. "Furthermore, we analyze both raman and luminescence spectra, while similar foreign devices are based on raman scattering of light alone. That is, we might say our device uses two eyes instead of one to evaluate a substance."
Raman spectroscopy is a spectroscopic technique used to study vibrational, rotational, and other low-frequency modes in a system; luminescence spectroscopy analyzes light emitted from a substance not caused by heat.
The EnSpectr analyzer has other benefits over its foreign competitors: According to Steblyov, while the device's technical characteristics exceed those of its foreign counterparts, it costs less than half as much and is significantly smaller. In addition, the EnSpectr comes complete with a range of extra options, such as a more comprehensible and user-friendly computer interface, which allows any user to learn to handle the device in about five minutes. Technical maintenance is also simple; replacing a burnt-out laser diode is as easy as screwing in a light bulb.
The Russian-made device has already sparked interest worldwide: it has been purchased by numerous research institutions and private owners in 14 countries. In Russia, however, the device has so far received appreciation only from the state customs office, which has already signed a contract with RamMix to purchase the device, and the Bakhrushin Theater Museum, which hopes to use the device to protect its masterpieces from counterfeiting.
"For museums, we have developed a technology for marking paintings before sending them abroad with specific substances that can only be read by our device, so the museum can be certain it gets back the same canvases it loaned out," Steblyov said, adding the company was looking forward to establishing cooperation with the State Hermitage and other top Russian museums.
All rights reserved by Rossiyskaya Gazeta.