Russian passion for football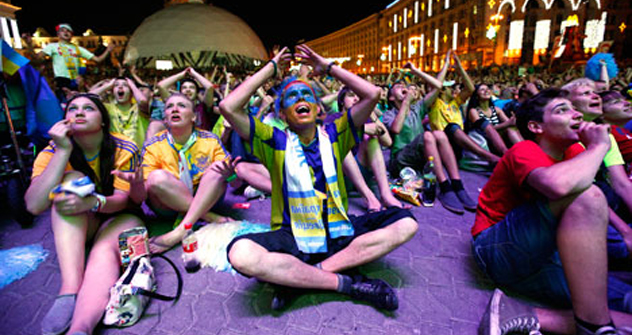 A large number of Russians are as obsessed with football as Indians are with cricket.
When I asked a friend who runs a bar in Moscow's city centre whether Russia's early exit from Euro 2012 was going to affect his turnover during the tournament he laughed and said his compatriots would jump on the bandwagons of other teams. His words were more or less prophetic with "Go Ukraine" trending on Twitter in Moscow, until Russia's neighbours were eliminated. In keeping with the Russian tradition of cheering for the underdogs, Moscow fans then started cheering for the Italians. This friend told me a day after Spain won the championship that his bar made a huge profit after Russia's exit from the tournament.
Football is immensely popular in the country that has traditionally underperformed at major international tournaments despite success in the 1950s and early 1960s. The Soviet Union, which won the gold in the 1956 Summer Olympics in Melbourne by defeating Yugoslavia, won a rematch against the same opponents in the final of the European Championship in 1960 in a match that was seen as an ideological battle between Josip Tito and Moscow's Communist leaders. This was followed by a defeat to Spain in the European final four years later when the Soviet leadership would have been happy to teach General Franco a lesson.
Russian fans are not as delusional about their football as their counterparts in England and have gotten used to bad luck and heartbreak. It was in 1968 that the USSR-Italy semi final ended in a goal-less draw and Italy advanced to final by winning a coin toss!! Russian fans have traditionally been philosophical about their close defeats in major tournaments but of late, football has tended to stoke nationalistic passions and has even been hijacked by hooligans.
We all know what happened in Warsaw on Russia Day, when there were clashes between Russian and Polish football fans. The international media decided to jump the gun and blame the Russian fans but as the reports came in slowly, an organised group of Polish hooligans were found to be the real culprits. Many Russian friends of mine agree with me that the large "This is Russia" banner that a section of Russian fans had at the stadium was in extremely poor taste. Thankfully, such people who hoist those kinds of banners are in a vast minority.
I had a comical incident with a bunch of drunken fans during the previous edition of the European Championships. That was the year Guus Hiddink coached an inspired Russian national team that went all the way to the semi-finals. In the group stage, Russia lost to Spain and there was a group of drunken fans furious about the way the Spaniards spanked their team. They spotted me near a Lenin Square and screamed "there's a Machu." A winter in Russia did lighten my skin but I wasn't sure that I looked anything close to Spanish or southern European! As this group came charging towards me, my friends told them in crass and unprintable Russian that I was Indian. After giving us a dirty look, they walked off to find a real Spaniard! I am not sure about their luck in the distant outposts of the Russian Far East.
Like Indian cricket fans, Russian football fans are knowledgeable and completely engrossed when the national team is playing but club football excites the fans in a way that the IPL does for cricket-lovers in India. I write grudgingly that Spartak Moscow is the most popular team in the country. In this blog post I wrote about an encounter with Spartak fans in Moscow. My history with supporters of the club goes back a long way. When a few friends invited me to watch a match at the stadium in Vladivostok between FC Luch-Energiya Vladivostok and Spartak, I was sure that the home team could count on support from the fans. The reality of the situation, however, horrified me. The Spartak fans outnumbered those of us cheering for Luch-Energiya. In fact, the Vladivostok fans couldn't feel very safe in their own hometown!
Life can be tough for a non-Spartak fan, but I did have my moments. I remember sitting in a room between two passionate Spartak supporters. The man on my left was around 6'2" and over a 100 kgs and the man on my right was even larger. Spartak was playing a so-called "inferior team" from Kazan and was supposed to steamroll their opponent. Instead Rubin Kazan went on to upset the giants of Russian football. My friends were shocked that their team could lose to such a weak side. Not wanting to bear the brunt of their frustration, I quietly slipped out of the flat, found an empty lane and screamed my lungs out! Retribution was great, despite having it in small measure and in solitude!
---
*This writer is a fan of PFC CSKA Moscow.
All rights reserved by Rossiyskaya Gazeta.