Patrick Auroy: "NATO sees Russia as a partner, not as a threat"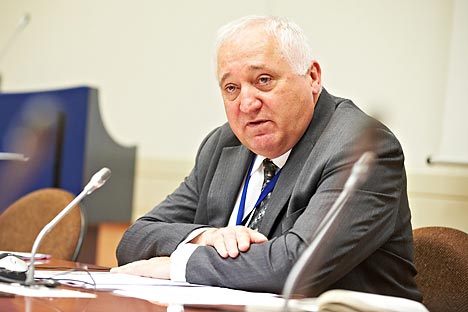 Assistant NATO Secretary General for Defense Investment Patrick Auroy. Source: NATO / Press Photo
Assistant NATO Secretary General for Defense Investment Patrick Auroy paid a visit to Russia.
Auroy spoke with Maria Efimova of Kommersant about what he sees as the most promisiting areas for NATO-Russian cooperation.
Kommersant: What is the aim of your visit to Moscow?
Patrick Auroy: I am in Moscow at the invitation of Deputy Prime Minister Dmitry Rogozin. Together we visited the international forum Technologies in Machine-Building 2012 in Zhukovsky. As head of the NATO delegation, I took part in a roundtable on military-technical cooperation between Russia and the North Atlantic Alliance.
Kommersant: What is your impression of Russia's military potential? Have you noticed progress in recent years?
P.A.: I am not in a position to give a proper assessment, having been here only a few days. I can say what my instincts are. NATO countries are restructuring and consolidating their defense capabilities even as military budgets are being cut. The Russian military-technical modernization program is massive and ambitious and envisages significant investment in the defense industry. This is a challenging task in the context of the economic crisis, so it is too soon to draw any conclusions, but it seems to me that the reform is moving in the right direction, consolidating defense capabilities and emphasizing strategic aviation.
Kommersant: NATO's target is to have every member spend 2 percent of its GDP on defense. The U.S. spends twice that quota, while the European members barely meet the target. Will the imbalance be overcome?
P.A.: The imbalance is a consequence of decisions at the national level. It is hard to say how the situation will shape up in the future because, considering the unpredictable development of the economic crisis, it is unclear what will happen to the defense budgets of various countries. We continue consultations on how to increase defense spending in the long term, but that will take time.
Kommersant: In what spheres will NATO invest money in spite of any budget cuts – missile defense, cyber defense?
P.A.: NATO members will above all spend their military budgets to counter security threats wherever they come from. They differ for different countries. So the Alliance is constantly making a joint assessment of the threats that we will face today or tomorrow. Undoubtedly, missile defense and cyberdefense are among the priorities.
Kommersant: Some NATO members are worried about the transfer of technologies to Russia. What do you think about it?
P.A.: It's not about the transfer of NATO technologies to Russia, but about the bilateral cooperation with Russia that alliance members enter into. They do so in accordance with international law. Unlike, for example, the European Union, where technology transfer is regulated by common rules, NATO cannot influence the sovereign decisions of its member countries. On the other hand, because Russia and the North Atlantic Alliance do not pose a threat to each other and are partners, technology exchange is not a problem.
Kommersant: Does the North Atlantic Alliance have any concerns about Russia developing new ballistic missile technologies?
P.A.: NATO sees Russia as a partner, not as a threat, so the Alliance has no concerns about the development of ballistic missile technologies. That is an important part of the national defense strategy. The threat comes from the countries where technologies are developing alongside nuclear programs. States outside the Euro-Atlantic zone acquiring nuclear missiles is a common challenge and another important reason for the need for cooperation between Russia and NATO.
Kommersant: How do you see NATO forces in the foreseeable future and what will be the role of the Alliance's cooperation with Russia?
P.A.: Above all, we are talking about timely joint assessment of security threats and countering them. We already have positive experience of cooperation in Afghanistan; we are moving together towards the 2014 milestone when ISAF (the International Security Assistance Force - editor's note) will finally withdraw its forces. There are examples of cooperation at sea, for example, NATO naval ships recently paid a visit to St. Petersburg. The NATO-Russia Council is holding continuous political consultations. Military technical cooperation is promising. NATO seeks to develop the right sectors at the right moment and there are many things we can do together by strengthening mutual trust.
First published in Kommersant.
All rights reserved by Rossiyskaya Gazeta.