Moscow ratifies agreement to ease visa rules with the U.S.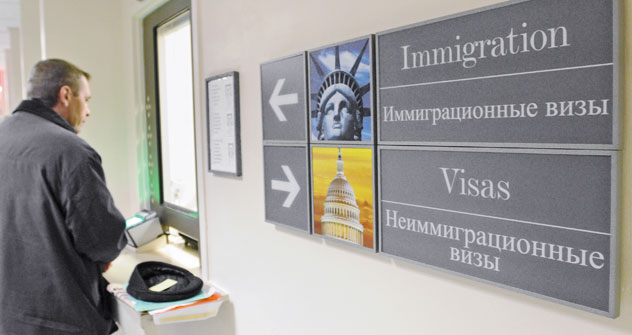 The new visa regime between Russia and the United States will make it easier for Americans and Russians to travel their countries. Source: ITAR-TASS
New visa regime to make travel easier for businesspeople and tourists.
Last week the Russian State Duma ratified an agreement on the visa regime with the United States making it easier for nationals of each country to travel to the other. Under the new protocol, standard visas for both businesspeople and tourists will allow multiple entries over a period of three years and give the holder the right to stay in the host country for up to six months at a time.
Waiting times for visas will be no more than 15 days.
The U.S. Department of State commented that the agreement would facilitate trade and economic cooperation between the two countries, RIA Novosti reported.
During the approval process, Duma deputies noted that the document facilitates contacts between citizens and officials of the Russian Federation and the United States and promotes bilateral Russian-U.S. cooperation.
The Duma committee believes that the agreement "serves the interests of the Russian Federation and is an important step towards visa-free travel between the two countries."
On May 29, presidential aide Yury Ushakov said that Moscow was ready to change to a visa-free regime with the United States. The Russian administration believes expansion of contacts between the two nations should eventually result in complete abolition of visas.
Russian Deputy Foreign Minister Sergei Ryabkov had previously commented that Russia and the United States might abolish visas by the end of this decade.
"There is a chance to introduce visa-free travel for our citizens by the end of the current decade," Ryabkov told the State Duma. "It is hard to specify the timeframe, but this process won't take whole decades."
The agreement on the new visa regime was concluded in Bali on Nov. 19, 2011, when Russian Foreign Minister Sergei Lavrov and U.S. Secretary of State Hillary exchanged diplomatic notes.
Russian Prime Minister Dmitry Medvedev expressed confidence that ratification of the agreement "will facilitate promotion of Russian-American economic, cultural, and humanitarian ties, and we presume that, eventually, such agreements will pave the way for visa-free travel for our citizens."
First published in Vzglyad.
All rights reserved by Rossiyskaya Gazeta.