The country where Keynes made a difference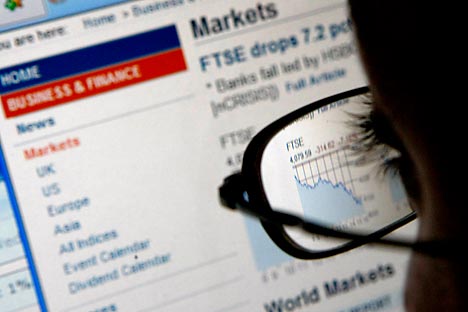 Americans are generally prone to saving for a rainy day while Russians are used to spending money and stocking up on goods as they expect any day to be a rainy one. Source: Reuters / Vostok-Photo
Western countries say they rely on the theories of John Maynard Keynes when making economic decisions – but how does that explain Russia's prosperity?
In 1930s, British economist John Maynard Keynes suggested that the state could play an important role in overcoming a recession and restarting economic growth by increasing budget spending, which accelerates public demand. According to Keynes, large-scale budget expenditures then result in household income growth and a boost of private sector demand. As consolidated public and private sector demand rises, production output grows together with it.
A key concept in the Keynesian theory is the idea of a multiplier: both private sector demand and production grow faster than state expenditures. It also takes into account the propensity of households to save. If the level of savings falls, consumer expenditures rise, resulting in economic growth. Inflation also contributes to increased spending. The higher the inflation, the less sense it makes to save – which again leads to more consumption. This theory's popularity waned in the 1970s, but today governments are beginning to make use of it again.
John Taylor, a Stanford University professor, has analyzed the results of the fiscal stimuli that the U.S. ran in 2001, 2008, and 2009. As Taylor points out, Keynes, arguing in favor of tax cuts and increased social expenditures, tried to prove that these measures increase the population's real disposable income, thereby raising consumption, which eventually results in GDP growth. All three fiscal stimulus packages of the 2000s envisaged both financial incentives and increased social spending, but while Taylor found that the 2008 and 2009 packages really did boost the real disposable household income in the second quarter of 2008 and the second quarter of 2009, this did not cause a growth in demand.
The 2001 and 2008 stimulus packages did not make provisions for increased public sector purchases, and although the 2009 program did, the volume of federal purchases was not particularly large, only 0.21 percent of GDP. However, the Keynesian theory predicted that a multiplier was supposed to kick in as even an insignificant demand for goods and services from the public sector was bound to spark private sector demand. In reality, it did not happen either in 2009 or 2010, and the U.S. economy growth rate remained very low, only 1.7 percent in 2011 and 2.1 percent in the first quarter of 2012.
In Russia, the situation is quite different. Between January and April 2012, Russian government expenditures totaled equaled 6.5 trillion rubles (compared with 5.2 trillion rubles during the same period last year). Of this sum, 763.7 billion rubles were channeled to defense (compared with 436.2 billion rubles last year). Another 483.9 billion rubles were spent on the national security and law enforcement (versus 392 billion rubles last year). The national economy expenditures amounted to 698 billion rubles versus 565.1 billion rubles a year ago, while the social and cultural expenditures stood at 380.42 billion rubles against 301.9 billion rubles in 2011.The calculations show that state expenditures and state demand growth follow the Keynesian theory very closely, and in January – May 2012, the aggregate population income equaled 15 trillion rubles, up 7 percent from January – May 2011.
The U.S. has had a hard time trying to turn growing incomes into rising expenditures by boosting consumer demand and stimulating economic growth. In Russia, it is the other way around. Total household expenditures on goods and services reached $11.8 trillion, up 11 percent from January – May 2011. Additionally, between January and May 2012, the aggregate savings of Russian families totaled 1.2 trillion rubles, 4.7 percent less than a year ago. This has led to a significantly faster economic growth in Russia compared with the U.S. In the first quarter of 2012, the Russian economy gained 4.9 percent year-on-year, while sustaining the growth rate in May. It is counterintuitive, but the U.S. authorities, even after consulting with the most prominent researchers supporting the Keynesian economic theories, have failed to implement them. Meanwhile, even though the word 'multiplier' is not a key part of the Russian authorities' vocabulary, they still managed to bring the theory to life.
Indeed, some may point out that fast rate of the Russian GDP growth in the first half of 2012 is attributed to the growth in global oil prices, and these prices are determined by global financial speculators who could not care less about complex economic theories. Others may say that Americans are generally prone to saving for a rainy day while Russians are used to spending money and stocking up on goods as they expect any day to be a rainy one. One way or another, all elements of the Keynesian theories are currently acting in Russia, which probably would have surprised their author greatly.
The article is abridged and first published in Russian in Komersant-Vlast magazine.
All rights reserved by Rossiyskaya Gazeta.