India's options in the Afghanistan end-game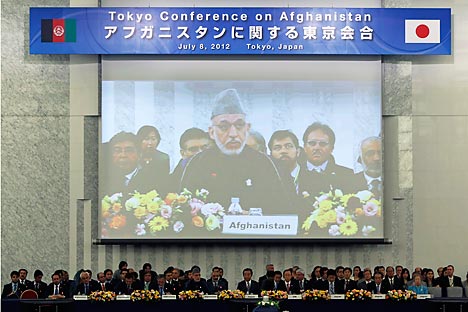 Conference on Afghanistan in Tokyo. Source: Reuters / Vostok-Photo
India's stakes are really high in Afghanistan, especially once the Western troops leave Afghanistan by the end of 2014.
The Tokyo conference held last Sunday pledged to give Afghanistan US$16 billion in development aid through to 2015. Among the international leaders in attendance at the conference was the Indian External Affairs Minister S. M. Krishna, who outlined the efforts made by India for Afghanistan's all-round development.
India is among the biggest donors in Afghanistan, having already committed almost around US $2 billion to Afghanistan. India's state-owned Border Roads Organisation has constructed a 218 km road from Zaranj, located on the Afghanistan-Iran border to Delaram in Afghanistan, which will take goods to the Iranian border and, from there to the deep-water port of Chahbahar in Iran. This road is strategically very important for India to reach Afghanistan since Pakistan does not allow India transit rights through its territory. India is also involved in the construction of the Afghan Parliament building in Kabul and the Salma Dam power project in Herat province, which will be completed by this year.
India's stakes are really high in Afghanistan, especially once the Western troops leave Afghanistan by the end of 2014. What are the likely scenarios that may develop in Afghanistan once the foreign troops leave that country?
Firstly, it is highly likely that the Taliban will stage a comeback in many parts of Afghanistan once the Western forces withdraw. In that case, India will have to look at once again lending support to the non-Taliban elements like it had done in the past when it had supported the Northern Alliance in cooperation with countries like Iran and Russia.
Secondly, there is a credible threat of the rise of Taliban in Afghanistan post-2014 once again destabilising the Indian border province of Jammu and Kashmir. To prevent this, India would have to team up with the international community in order to train the Afghan security forces and have some kind of supporting role in Kabul to ensure that the Taliban and the anti-India elements in the Indian province of Jammu and Kashmir do not get an opportunity to link up.
As part of the Strategic Partnership agreement between India and Afghanistan signed during the visit of the Afghan President Hamid Karzai to India in October last year, India has already agreed to "assist, in the training, equipping and capacity building programmes for Afghan National Security Forces". The Strategic Partnership agreement also commits the two countries to cooperation in sectors like "agriculture, mining and health sectors, reflecting Afghanistan's priorities".
Thirdly, with India getting closer to the US, and building on its historic ties with Russia, there are even more opportunities for India, US and Russia to collaborate in stabilising Afghanistan. Last week, during an unannounced visit by the US Secretary of State Hillary Clinton to Afghanistan, the US designated Afghanistan as a major non-NATO ally, which will give Afghanistan privileged access to US arms exports and defence collaboration, setting the stage for continued US-Afghanistan cooperation post-2014.
Fourthly, India will also have to ensure that democracy continues to prevail in Afghanistan in order to ensure that there is rule of law in that country. Giving Afghans employment opportunities is also very important so that they do not become foot-soldiers of the Taliban. Every year, India provides 675 long-term university scholarships, through the Indian Council for Cultural Relations (ICCR) for students from Afghanistan in India. Last month, India organized an investment summit on Afghanistan in New Delhi to attract foreign investment in Afghanistan in varied sectors like infrastructure, mining, telecommunications, hydrocarbons, agriculture etc.
Fifthly, India should help Afghanistan become the gateway between South and Central Asia. India is already building close ties with the Central Asian countries, especially given the rising demand for oil and natural gas in India. The historic TAPI gas pipeline, when completed, will bring natural gas from Turkmenistan to India via Afghanistan and Pakistan, which could be a game-changer for the entire region.
One of the tools that India should use more effectively in Afghanistan is soft-power, in the form of its Bollywood movies, something which Pakistan does not possess. India will also have to prepare for the period after Afghan President Hamid Karzai exits office in 2014, since the Afghan constitution permits a maximum of two five-year terms for the President.
Of course, India will have to deal with a Pakistan which will try as much as it can to have some kind of "strategic depth" in Afghanistan, through its proxies, the Taliban. However, Pakistan also faces the predicament of its protégés, the Taliban, turning on Pakistan itself, in the absence of any strong enemies to fight with after the Western forces depart in 2014.
There is already a great deal of anger in the US establishment regarding Pakistan's double-game in Afghanistan and they will certainly spare no chance to get even with Pakistan. Both India and Afghanistan, along with most other nations realise today that it is Pakistan's support to the Taliban that has kept it(the Taliban) alive and kicking, in spite of the best efforts of the international community to the contrary.
Dr Rupakjyoti Borah is an Assistant Professor of International Relations at Pandit Deendayal Petroleum University, Gujarat, India. He has been a Visiting Fellow at the Centre of International Studies, University of Cambridge, U.K. in 2009. The views expressed are personal. He can be contacted at Rupakjyoti.B@sls.pdpu.ac.in
All rights reserved by Rossiyskaya Gazeta.