A fresh impetus needed in Indo-Russian business ties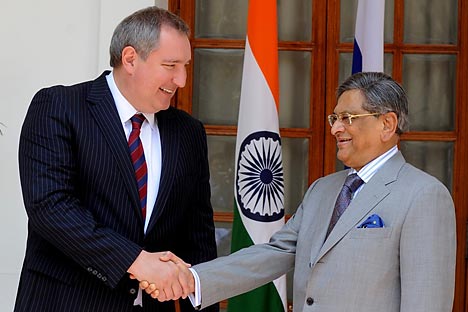 D. Rogozin, Russia's Deputy Prime Minister with S. M. Krishna, India's External Affairs Minister in New Delhi. Source: AFP
Improving connectivity between the countries and focussing on areas of business convergence may give a fresh boost to Indo-Russian bilateral trade.
Russian Deputy Prime Minister Dmitry Rogozin is in Delhi today for talks that range from defence deals, technological cooperation, international issues, particularly those concerning the Middle East, and most importantly bilateral trade. There certainly are important issues that need to be sorted out in defence and technology collaboration. The Indian side is alarmed about the escalating costs of Russian military hardware and spare parts and Russia is uneasy with India reducing its reliance on Russian arms and ammunition.
The rising costs of Russian military hardware are in line with the high levels of inflation in the country. On a recent train ride in the country, a Rostechnologii official, who happened to be in the same coupe, told me about how 60 to 70 percent of the cost of anything in Russia can be attributed to corruption. I sensed a great deal of exaggeration in his comments but Russia needs to keep an eye on the factors that cause such large price increases to continue to remain India's premier defence supplier. There is however no imminent danger in the Indo-Russian defence relationship with Russian hardware being the preferred choice of a large number of officers in India's armed forces.
Annual bilateral trade, which is still below $10 billion, is something the two countries have discussed at most summits, with very little to show in terms of results. There are inter-governmental commissions to discuss ways to improve business ties between private entrepreneurs and large businesses alike in the 2 countries, but are the allies getting the basics right? For instance, there are no direct flights between Moscow and India's financial capital, Mumbai. Compare this with 2 Aeroflot flights a day to Shanghai and 4 Aeroflot flights a day to Frankfurt. Not a single Indian airline flies to Russia.
When I waited for a flight out of Moscow's Sheremetyevo airport, I noticed 2 different flights landing from China, both of which were Chinese airlines. It's quite understandable that Chinese airlines connect their country with places in the Russian Far East, but Shanghai and Beijing are hardly in the same region as Moscow.
Now that visa rules have been eased for businessmen and tourists, the countries need to have a relook at their air services agreement. Indigo, a successful low-cost Indian carrier has started flying to a few international destinations. Why isn't a Moscow-Mumbai flight on its horizon? Better connectivity between the countries would be the first step in increasing trade.
Other barriers to an improved trade relationship are caused by a general lack of understanding of the ground realities in both countries by businessmen and the political class. According to a reliable source present at the meetings between Rogozin and his Indian counterparts, the Russian leadership has been quite strong in their criticism of the ordeal that Sistema is undergoing in India due to a Supreme Court verdict on the 2G spectrum allotment process. What Russia doesn't seem to understand is the fact that the Indian Government cannot interfere with the functioning of the judiciary. If there is one reason that international investors are keen to invest in India, it is their firm faith in the rule of law and the Indian courts. When the Indian Government tried to introduce a retrospective tax law to force Vodafone to pay taxes, there was an international uproar and the signals from the prime minister's office are clear that such a law won't be put into place. Sistema will have to fight its battles in court and the Indian Government may not be able to do much.
Indian businessmen also look at Russia as a risky place to do business and have little faith in the Russian banking system. Callous misinformation has led to Indian businessmen not being bullish on the Russian market. If Russia was so unreliable when it comes to business and payments, then how come China's annual bilateral trade with the country is close to touching $80 billion? The Chinese have more of a communication problem with the Russians but that doesn't seem to have hampered trade relations.
The obvious area in business where Russia and India have a convergence of interests is in the oil and gas industry. Energy-hungry India has not been able to secure enough oil and gas from Russia for a variety of reasons. Sakhalin-1, where ONGC Videsh is a partner in the consortium developing the oil and gas fields, is one example of successful cooperation in the oil and gas industry. ONGC Videsh also bought Imperial Energy in 2009, gaining access to oil fields in Siberia. The project has had its ups and downs but independent analysts see long terms benefits for both countries. Indian businesses are also increasingly looking at procuring coal from Russia. Energy is a major area that can be a catalyst to improved business relations between Russia and India, with the latter needing a reliable supplier to fuel the needs of a growing economy.
Trade can do much more for the people of India and Russia than diplomacy alone. While continuing to work as partners in global affairs, the two countries need to have a focussed approach towards developing business relations so that both Russians and Indians can benefit from two of the world's fastest growing economies.
All rights reserved by Rossiyskaya Gazeta.