Regulating organic food production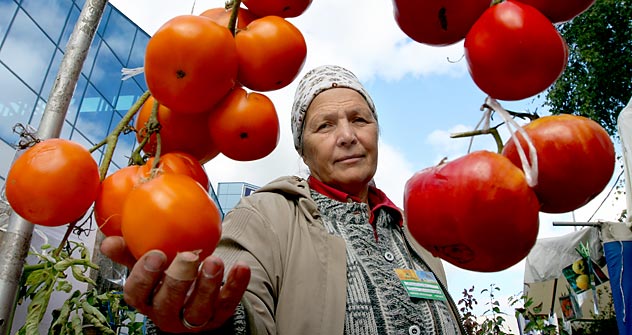 Russia's Agricultural Ministry to propose a bill intended to specify the food regulation mechanisms. Source: ITAR-TASS
A new bill proposed by Russia's Ministry of Agriculture will specify what qualifies as an organic product in an attempt to protect consumers.
Russia's Ministry of Agriculture plans to introduce new requirements for labeling food organic. The ministry is preparing a bill to send to the State Duma, and although the bill is not yet ready, a number of definitions and terms have already been identified, including "organic agricultural product" and "production of organic products." There have been earlier attempts to define related terms; for example, a decree in effect in Moscow from 2007 to 2012 allowed producers to mark their products as "containing no GMOs." The new restrictions on organic marketing will be imposed by amending the law on the protection of consumer rights."
"In Russia, the term 'organic agriculture' is becoming increasingly popular both in literature and in the media, but it has not been defined by law," said Tatiana Balagula, head of the Ministry of Agriculture's research department.
With the new provisions, the ministry hopes to boost consumer confidence in domestic organic products while also providing Russian manufacturers with competitive advantages on the global and domestic food markets.
"It is important to understand that the status of organic products does not guarantee their safety, safety standards are a must while environmental friendliness is a bonus," Balagula said.
Anton Nedzvetsky, deputy head of the Moscow Society for the Protection of Consumer Rights is skeptical about the effectiveness of the proposed legislation. "The phrase 'organic product' may mislead consumers. On the one hand, this is additional advertising for the product, stimulating consumption, but on the other hand, in the absence of a regulated definition, this phrase may be used by any manufacturers, and it is impossible to hold them accountable for giving false information."
The ministry says that the law will also establish a monitoring system for the manufacturers of food products, including product certification, laboratory accreditation and certifying agencies capable of conducting such research. Land plots involved in the production of organic food will also require special protection. In turn, producers using eco-friendly methods will be supported by the state in the form of insurance and lending benefits.
Ministry of Agriculture experts working on the new bill are drawing on the experience of Europe and the United States, where the entire production process of organic products, from planting to packing, is governed by special regulations. Alexander Konovalov, the founder of a professional association of eco-product manufacturers and suppliers explained that according to world standards, an organic product means a product with a natural shelf life and produced without any chemical additives including pesticides, nitrates, hormones, and antibiotics. And, most importantly, the whole production process, from seed to store shelf, must be under control.
"So far, there has been very little in Russia in terms of eco-products compared to Europe and the United States," Konovalov said. "There are a few commercial organizations trying to certify something independently but at the federal level, this has no legal force. Over the past three years, I have spoken in the Public Chamber, the State Duma, the Ministry of Health, I have used every opportunity to explain the need for this law. Currently, there are a lot of unscrupulous producers on the Russian market who are duping consumers, and people have no idea what they are buying."
Two years ago, manufacturers in France, Germany and Italy were offered €150 in state subsidies per 1 hectare of organic land, and this year, the subsidies have been raised to €300, according to Konovalov.
"There, anyone legally producing eco-products can sign agreements with different retail chains selling organic products. In other words, producers do not have this headache, they know that their product will be sold at a fixed price," Konovalov said.
This article has been abridged from the original, which can be read in Russian here.
All rights reserved by Rossiyskaya Gazeta.