Terrorist attack rocks Tatarstan's religious community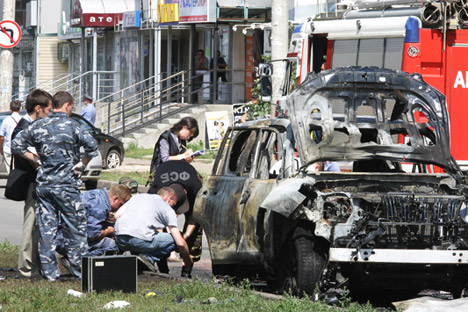 The Tatarstan mufti's service car was blown up in Kazan at 11 a.m. on Thursday, causing fatalities. Source: ITAR-TASS
A car bomb and shootings in Kazan left a Tatarstan mufti injured and his deputy killed.
As a result of a terrorist attack in Kazan, Tatarstan Mufti Ildus Faizov was seriously injured, and his deputy Valiulla Yakupov was killed. This accident has shaken Russia's Muslim community.
Faizov suffered injuries when his car was blown up in Kazan, the capital of Tatarstan, and has been taken to the hospital, according to the Investigative Committee Department for Tatarstan. The mufti's car was attacked at 11:00 a.m. "The mufti came out of his home and got in the car to go to work on Chetayev Street," said a statement from the Investigative Committee. "The explosion occurred at this time. Faizov was thrown off by the blast wave, he suffered injuries and has been taken to City Hospital No. 15." The Emergency Situations Ministry department for Tatarstan told Interfax that, following the attack, Faizov was able to walk on his own to an ambulance, which rushed him to the hospital.
Yakupov, the head of the Tatarstan Muslim Educational Department Board and Faizov's deputy, was killed walking out of his home on Zarya Street about 10:00 a.m. "An unidentified person shot Yakupov in the lobby of his building and fled. The wounded was able to get in his car, where he died," a local official said. No weapons were found at the crime scene. A criminal case has been opened.
Russia's Council of Muftis has described the murder of Yakupov and the attempted killing of Faizov as a terrorist attack.
"Terrorism cannot be justified in any way," Damir Gizatullin, the first deputy head of the Muslim Board of European Russia told Interfax Religion. "This barbaric terror attack was carried out ahead of the holy month of Ramadan, which is particularly distressing. This tragedy must unite us even further. We must think more about the clergy's security."
Faizov and his team have been working to strengthen traditional Sunni Islam. They have been working with citizens intensively "and this could have angered the extremists," Gizatullin said. "But they will fail to exploit the situation, because most of Russia's Muslims are Sunnis, followers of moderate Islam."
Investigators are verifying initial reports that Thursday's attack on Faizov involved three blasts, according to Russian Investigative Committee spokesman Vladimir Markin. "Preliminary findings indicate that there were three blasts. Specialists are currently working to determine the type of the explosive device and its power," Markin said. "[Experts are inclined to believe that] the explosive device was fixed to the car's bottom in the area of the front passenger seat."
President Vladimir Putin described the attack as a message. "It's a serious signal," Putin said. "We have on the whole been aware of what's going on in some Russian regions, but being aware is not enough. It is necessary to understand the situation, analyze it and make timely decisions," Putin said at a meeting with members of the State Duma. "As for the latest tragic incident, we can say that no preemptive steps have been taken," Putin added.
The Moscow Patriarchate of the Russian Orthodox Church has expressed concern about the increasingly frequent attacks made on religious leaders who resist extremism. "Unfortunately, deadly attacks on religious leaders have become common," said chief of the Synodal Information Department Vladimir Legoyda, commenting on the accident.
These attacks target "ones who resist extremism and preach the rejection of violence, and peaceful and balanced ways of dealing with problems," Legoyda said. He expressed support for the victims of the attacks and wished Mufti Ildus Faizov an early recovery. "Fighting religious extremism is an acute problem facing the public in Russia," he added.
All rights reserved by Rossiyskaya Gazeta.