The implications of trans-national organised crime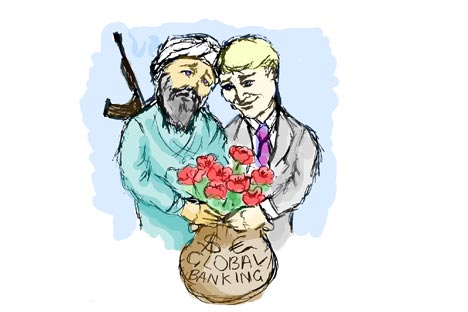 Organised crime has negatively influenced the smooth functioning of national and international politics, caused religious intolerance and contributed to degradation of the human mind.
The United Nations revealed on July 16, 2012 that money generated from trans-national organised crime amounts up to US$ 860 billion, which is equivalent to seven percent of world's legal exports and six times of the total global aid budget. It further revealed that among various components of the crime, drug-trafficking constitutes the major one followed by counterfeiting and human trafficking. It also provided the chilling figure that at any given point of time 2.4 million victims are affected across the world due to human trafficking. Terming it the 'greatest challenge' confronting the globe, the Executive Director of United Nations Office for Drugs and Crime (UNODC), Yury Fedotov called for synchronisation of policies of nations, and awareness across the divides so that this menace pervading many aspects of national and international politics can be tackled.
Though organised crime is a well-known factor in determining international economic as well as political developments, there was no clear data as to the scope and reach of this crime as a whole. Though stories abound in the context of trans-national crime (for example the Sicilian mafia of the Godfather fame or the South American drug cartels or drug trafficking from Afghanistan; or illegal human trafficking from developing countries), a detailed elaboration of transnational crime will likely goad the nations to develop and coordinate policies to tackle the menace. In this context, one can juxtapose the organised crime with maritime piracy, which till a few years ago was one of the bigger headaches for nations conducting trade through sea lanes. Though the piracy at sea has not been totally eliminated, coordination among nations has significantly reduced the menace. While releasing the information to the media Fedotov emphasised on awareness and coordination among policy makers. According to him, "Crucial to our success is our ability to raise public awareness and generate understanding among key decision and policy makers."
It is but on expected lines that the organised crime, which has made inroads into systems of politics across the world, will have significant implications for the globe. The UNODC revealed that a campaign it led "also illustrates that despite being a global threat, the effects of transnational organised crime are felt locally. Crime groups can destabilise countries and entire regions, undermining development assistance in those areas and increasing domestic corruption, extortion, racketeering and violence."
Afghanistan which produces 90 percent of poppies in the world has become a polity deeply plagued by corruption. In 2011 alone, the country produced about 6000 tonnes of opium. As pointed out in the UN report, the massive poppy cultivation could not have been possible without blessings of officials from Kabul. Drugs generated in Afghanistan made their way to Russia and Europe via Central Asia. The major contributor to the organised crime the drug trafficking generates about US$ 320 billion, far higher than national budget of many countries. As the UN report detailed, from Afghanistan every year 95 tonnes of heroin enter Russia and 140 tonnes enter Europe. Similarly every year 300 tonnes of cocaine reach North America from South America and about 200 tonnes reach Europe. Drug trafficking not only generates illegal money, but also affects the health of consumers. There are also instances when the money generated from it is used for religious fundamentalism and terrorism purposes. In Afghanistan it has become the most thriving trade because it has the protection of the Taliban, which has dominance in the southern parts of the country where poppy is cultivated. Besides, the compliance of corrupt officials at Kabul also contributes to this crime. Reportedly, the low cost of production, negligible storage cost too has made it a cash rich production in the region.
Counterfeiting is the second largest component of organised crime, generating about US$ 250 billion every year. Every year about 1.5 million people become victim of identity theft. Developments in information and communication technology have been used by criminals to fabricate or impersonate the information to their advantage. However, one of the major concerns expressed by UN report is about human trafficking. Mostly from developing countries, the poor people become victims of various mafia groups who expertise in illegally transporting these people to Europe and North America, and even Gulf countries. According to the UNODC, every year 70,000 people, mainly women and children, are trafficked into Europe for sexual exploitation. In South Asia, Nepal and Bangladesh are two major countries which are sources of human trafficking. Last year, a racket that was involved in aiding illegal migration of people to the US was busted by the Indian government. The mafia used a circuitous route, from New Delhi to Istanbul, and then from Istanbul to Mexico, and then from Mexico to the southern part of the US. The racket charged every victim 3 million Indian rupees (about US$ 60,000).
The Latin American mafia every year generates about US$7 billion from this business. Many illegal migrants, including sex workers, often end in a life of trepidation, slavery, and wretchedness. Thousands of such stories circulate in media every day. The poor victim gathers huge sums of money (even by selling movable and unmovable property) for hopes of better future; they actually find themselves in the nets of mafia and destitution.
Motivation behind transnational crime is varied. Besides the avarice of the criminal mafias who are shun of any modicum of morality and are interested in nothing but quick accumulation of money, the other vested interests contribute to this business of gigantic size. As implied in the report, such a huge business could not thrive without connivance of corrupt state machinery. The erosion of legitimacy of Karzai government in Afghanistan is partly derived from corruption that has crept into his administration. The traditional Pashtuns view sections of the Taliban as morally upright while they view sections of administration as corrupt and immoral. In fact, the Taliban on many occasions has harped, though in a convoluted gamble, that it is morally superior to the corrupt and morally bankrupt Karzai regime. More so as recent trends indicate, not only the professionals (who profess crime as their business), but also religious fundamentalists and terrorists have been involved in organised crime to generate money for buying weapons and other equipment to further their agenda. It is well established how one of the notorious drug mafia Dawood Ibrahim, who invested in poppy cultivation in Afghanistan, partly funded the Mumbai terror attacks of 2008.
The point that needs emphasis is the organised crime as a menace has not been confined to mere generation money rather it has had a negative impact on the smooth functioning of national and international politics, contributed to degradation of the human mind, religious intolerance and immoral conduct. It is but a truism when Fedotov says "Transnational organised crime reaches into every region, and every country across the world. Stopping this transnational threat represents one of the international community's greatest global challenges." This calls for greater urgency and coordinated action.
All rights reserved by Rossiyskaya Gazeta.