Russia hopes to overtake US in Trade Turnover with India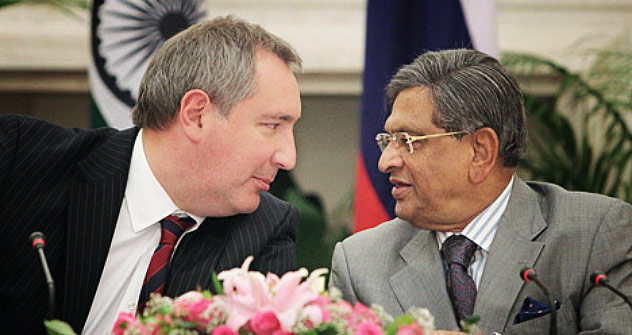 Russian Deputy Prime Minister Dmitry Rogozin meets with Indian External Affairs Minister Somanahalli Mallaiah Krishna. Source: RIA Novosti / Sergey Mamontov
Rogozin believes that trade must be boosted by improving existing cooperation in both civilian and military technology.
On a recent working trip to New Delhi, Russian Deputy Prime Minister Dmitry Rogozin set out plans to expand bilateral trade and economic cooperation between Russia and India.
Rogozin believes that trade must be boosted by improving existing cooperation in both civilian and military technology. Russia hopes that trade between Moscow and New Delhi will eventually exceed the volume of trade between India and the United States.
"The trade target of $15 billion by 2020 is not an overly ambitious goal," Rogozin said.
Currently the trade volume between Russia and India, excluding cooperation in the military-technical sphere, amounts to a little over $5 billion. India's External Affairs Minister Somanahalli Mallaiah Krishna has said that data from the first quarter of this year gives reason to be optimistic about increased volume, but that efforts need to be redoubled to meet the set target.
"Today, Russia is the leading integrating force in Eurasia. It gives us new opportunities for cooperation, among which is signing economic partnership agreements with the Customs Union of Russia, Belarus and Kazakhstan," Krishna said.
Mina Roy, of the Indian Institute for Strategic Studies, thinks that now is a good time for Russia to increase ties with India. "If Russia wants to try to overtake the U.S. by trade volume with India, this is the right moment to do so," Roy said. "Indian society is growing uneasy about Washington trying to dictate its policies to New Delhi in crafting economic interaction. However, the issue of boosting trade with Russia has run into hurdles for many years, and extra effort will be required to buck the trend."
Rogozin believes the solution lies in a transition from classic trade to creating joint manufacturing companies and conducting research and development, particularly in the hi-tech sector.
"Russia intends to play an active role in modernizing Indian facilities that were built back in the Soviet era. It will set up the most cutting-edge producing operations, leaving behind world analogs in this sphere. Rosatom, the Russian federal atomic agency, is a good example. Currently it is building safe, modern units at the Kudankulam nuclear power plant. We're making an effort to cooperate in such high-technology industries like aviation and space as well," Rogozin said.
This kind of effort is demonstrated by the joint development and production of transport and passenger aircraft, an advanced frontline aircraft system, and the inclusion of Indian scientific potential in the upgrade of the Russian global navigation system GLONASS.
Russia is pouring more than $100 billion into the modernization of its military industry over the next eight years, and has allocated $850 billion to rearm its military forces. Because Russia is a big supplier of materiel to the Indian armed forces, Rogozin believes this new investment is likely to have a positive impact on military and technical cooperation between Russia and India.
Rogozin also noted that easing visa restrictions and fostering conditions to encourage development of business ties are also important in improving bilateral relations. Rogozin mentioned the case of Sistema Shyam Teleservices Ltd., a joint-venture whose license was revoked by the Indian authorities.
"It is necessary to find a solution that would allow Russian businesses to feel comfortable on the Indian market. I am sure it can be done in a friendly manner," Rogozin said.
Ashish Bhar of the Indian Institute for Global Economic Partnership believes that Sistema will eventually receive its license, considering that it is one of the largest investors in the country. Bhar said that if the license is not granted, India would have difficulty attracting other large telecom operators.
"It is obvious that the conclusive decision regarding the 122 licenses of companies operating within the 2G spectrum will affect plans to set up joint ventures not only with Russia but with other countries as well," Bhar said.
First published in Russian in the Izvestia newspaper.
All rights reserved by Rossiyskaya Gazeta.