APEC travel ministers are discussing industry development in Khabarovsk
A ministerial conference on tourism has opened in Khabarovsk in the framework of Russia's presidency in APEC, the organizing committee of the forum announced on Monday.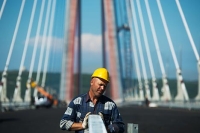 A working group of the conference met on Saturday and Sunday. Participants in the meetings delivered reports on national projects in such spheres as the liberalization of air travels, guarantees of the stability of business and travel directions, the removal of barriers in the travel industry, the advancement of ecological tourism, the development of the tourist infrastructure, and the attraction of investment in the industry.
Head of the department for international cooperation at the Federal Agency for Tourism Valery Korovkin who heads the Russian delegation presented an initiative on an APEC manual on safety in tourism at the session of the working group. "In his speech he stressed the importance of guaranteeing safety in tourism, protecting the interests of travelers and international interaction in advancing the industry," a newsletter says. Korovkin also spoke of the contribution of tourism to the Russian GDP, the structure of outgoing and incoming foreign travels, and key directions of domestic tourism. The working group paid much attention to international cooperation in transport and air travels.
All rights reserved by Rossiyskaya Gazeta.