Russian officials will spend by the rules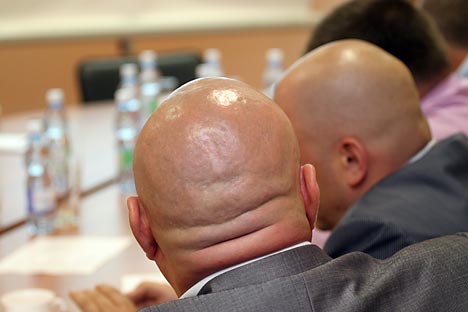 Russia's Finance Ministry may tighten the punishment for those officials who spend budget money ineffectively. Source: Kommersant
In order to make government spending more efficient, the Ministry of Finance has proposed new punishments for violating budget rules.
Officials who do not comply with the Budget Code will have to pay for violations from their own pockets, according to new rules proposed by the Ministry of Finance.
At a recent meeting, Finance Minister Anton Siluanov presented amendments to the Budget Code that he hopes will improve the efficiency of budgetary spending. The overarching idea of the document is to shift the focus from ensuring that funds are spent for certain purposes to assuring that fund are spent efficiently. To that end, the new rules will give the Audit Chamber the right to audit public spending for efficiency as well expand the powers of the Federal Service for Financial and Budgeting Supervision.
But the most interesting measures will involve a system of penalties for violations of the statutes. The Budget Code now lists 18 such violations, but only three of them carry administrative liability in the form of fines. For example, using public funds for anything other than their designated purposes and failing to meet deadlines for payment for their use is now punishable by a fine of 4,000–5,000 rubles for individuals and 40,000–50,000 rubles for regions. The Criminal Code stipulates the maximum punishment for this violation: If the crime involves a particularly large amount of money, the offending official faces a fine of up to 500,000 rubles or five-years in prison.
"Most enforcement measures listed in the Budget Code cannot be used in practice because of complicated procedures or the risk of upsetting the budget process," Siluanov said, pointing out that blocking budgetary spending in effect punishes consumers rather than a specific official or entity.
Vladimir Nazarov, an expert at the Yegor Gaidar institute, concurs: "There has been not a single instance where the Ministry of Finance stopped issuing money to a highly subsidized region because of some sort of violation," said Nazarov, because this "would accrue payables and result in unpleasant political consequences."
In order to solve this problem, the Ministry of Finance has decided to make a list of budget rule violations, each of which stipulates fines to be levied on specific individuals or organizations. The amounts of those fines won't be fixed, but will vary according to the amount of the inappropriately used budget funds. The ministry has also proposed disqualification as punishment for certain violations of a large magnitude. However, the Ministry's spokespersons declined to specify the amounts of fines in each case, because the document is still under consideration by the government.
Nazarov is confident that such measures will be easier to use. "The circle of those to whom the measures apply will narrow: It's one thing to punish an entire region of the Russian Federation (which could have been the right thing to do if we had a normal federative state), and a totally different thing to shift part of the responsibility to officials. There is a chance that someone will actually be punished," he said.
However, implementing these measures will trigger resistance from officials themselves, according to Igor Nikolaev, the director of FBK's Strategic Analysis Department. "Officials are shrewd, and it will be difficult to prove personal responsibility for any violations," Nikolaev said. On the other hand, Nikolaev predicted officials will try to shift the blame onto their superiors, and eventually it will transpire that a deputy prime minister or the premier himself gave the order.
First published in Russian in RBC Daily.
All rights reserved by Rossiyskaya Gazeta.