Olympic Watch: India's 5 best medal hopes in London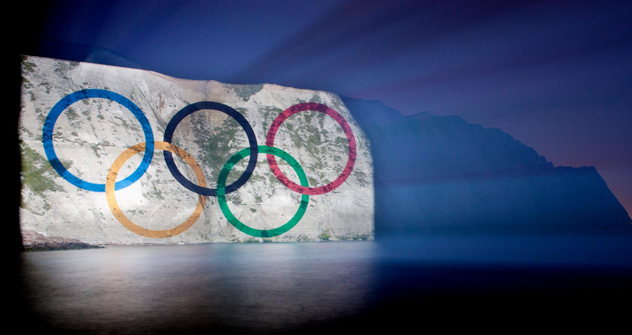 Giant Olympic Rings illuminate White Cliffs of Dover. Source: Press Photo
A billion hearts will be beating for India's athletes as they enter the grandest sporting stage in the 2012 Summer Olympics. Here is a look at 5 athletes who can keep the Indian flag flying high in London.
Olympic medals have been a luxury for India, a country that has participated in the Olympics right from the days of British rule. With the exception of field hockey, India didn't win a single medal after independence until 1996, when Leander Paes won the bronze in men's single tennis at the Atlanta Games. Those of us who watched his semi-final against Andre Agassi know how unlucky the sensation from Calcutta was to not beat the great American player. The Olympic Games have been about heart-break for India. There was the time P.T. Usha missed a bronze medal in 1984 by the slimmest of margins.
However, there have been a few moments of Olympic Glory for the nation of 1 billion plus. In Sydney, weightlifter Karnam Malleshwari won a weight-lifting bronze and this was followed by Major Rajvardhan Singh Rathore's silver in Athens for double-trap shooting. The Beijing Olympics was India's best with the country winning 3 medals, the highlight of which was Abhinav Bindra's Gold in the 10-metre air rifle event.
A tremendous amount of preparation has been put in for the 2012 London Olympics with corporates like Laxmi Mittal getting into the act of sponsoring athletes. India has a realistic chance of winning a few medals this summer and here's a look at the country's brightest prospects.
1. Saina Nehwal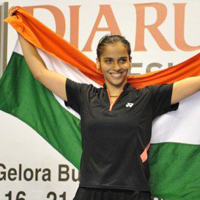 Saina Nehwal. Source: Press Photo
Currently the number 5 ranked badminton player in the world, Nehwal had a world ranking of 2 in 2010 after winning Super Series events in Indonesia and Hong Kong. Nehwal was one set away from entering the semi-final of the Beijing Olympics, before a spirited fight back from Maria Yulanti took the Indonesian through.
Nehwal has tasted victory in major international events since the defeat in Beijing and many believe that she is peaking at the right time with wins in the Swiss and Thai Grand Prix tournaments and the Indonesian Premier Super Series. The Hyderabad girl is seeded 4 in the Olympics and has an easy draw till the 4th round. A bronze is realistic, although I wouldn't rule out an entry into the finals.
2. Abhinav Bindra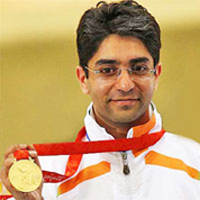 Abhinav Singh Bindra. Source: Press Photo
The current Olympic Champion in the 10 metre air rifle is the pride and joy of India. He is the only Indian individual athlete to win an Olympic gold. Bindra has the burden of gigantic expectations from India, a country in desperate need of (non-cricket) sporting heroes. Since Beijing, Bindra has just won just 1 international medal: silver at the Commonwealth Games in Delhi.
Bindra has been putting up impressive numbers at practice sessions in France recently and looks focussed to win gold for India again. One would have to believe that his taste of success in Beijing would put him up there for a medal in London.
3. Leander Paes/Sania Mirza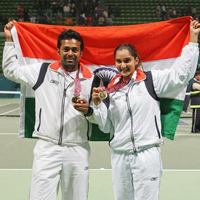 Leander Paes and Sania Mirza. Source: Press Photo
The soap opera over pairings involving Leander Paes, Mahesh Bhupathi, Rohan Bopanna and Sania Mirza grabbed more headlines than the players' preparation for the event. Ever since Paes and Bhupathi started winning grand slams in 1999, Indian tennis has been plagued by in-fighting.
Given the current world doubles' rankings, I think India's best shot at a tennis medal is the mixed doubles. Leander's experience and Sania's passion is the right combination. The duo were heavy favourites to win the Commonwealth Games Gold in Delhi but lost in the quarterfinals. Since then Sania Mirza managed to win the mixed doubles at the 2012 French Open (in partnership with Paes' rival Bhupathi). Leander is probably the youngest 39-year old in the world.
I would like to add that Bopanna and Bhupathi have an outside shot at winning a medal in the men's doubles.
4. Vikas Krishnan Yadav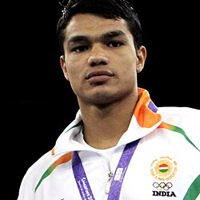 Vikas Krishnan Yadav. Source: Press Photo
The Asian Games lightweight boxing Gold Medallist is one of India's best medal prospects. His lighting fast reflexes and power-packed punches have earned him a good international reputation.
The 20-year old's meteoric rise to stardom in boxing began with a gold medal at the Youth World Amateur Championships in 2010. Yadav will run into a Cuban wall at some point of the tournament and will have to put in his best ever performance to win gold. Yadav enjoys the underdog tag and prefers remaining "unknown."
5. Mary Kom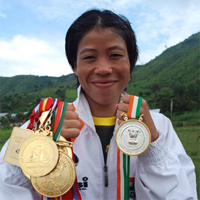 Mary Kom. Source: Press Photo
India's medal hopes rest on another boxer, a five-time successive World Boxing Champion. The Manipuri boxer is the only woman to have won a medal in 6 AIBA championships. "Magnificent Mary" lost in the semi-finals of the Asian Games in 2010, but won the Asian Championships in Mongolia this year.
At the end of her career, Kom, who thinks the Olympics will be easier than the World Championships, wants to go out with a bang. It's a shame that women's boxing wasn't an Olympic Sport when the champion from Manipur was in her best form. Given her success over a long period of time, an Olympic Medal is well within Kom's reach.
All rights reserved by Rossiyskaya Gazeta.