Alcohol ad ban to affect Russian media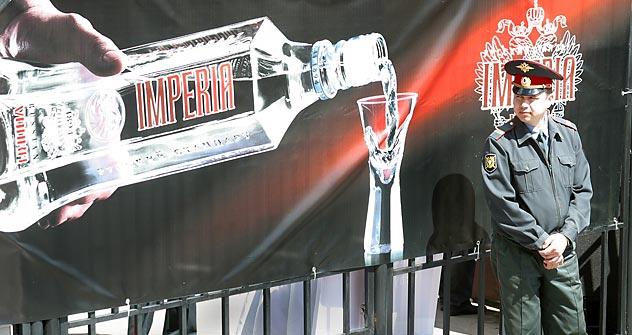 At least 2 percent of all ad budgets in Russia account for alcohol promotions. Industry specialists believe that companies may suffer losses of up to 8.5 billion rubles because of the new legislation. Source: RIA Novosti / Ekaterina Chesnokova
Mass media will suffer massive losses due to new alcohol advertising ban. But experts believe that loopholes in the law will make up some of the difference.
Both print and online media will experience significant revenue losses due to a new law banning advertising of alcohol. At the moment, no advertising of alcohol is allowed either on television or the Russian segment of the Internet, and as of Jan. 1, 2013, these types of ads will also be banned from print media. Losing this source of advertising revenue will strike a harsh blow to the budgets of many mass media outlets.
The total advertising market on the Internet and in printed media in 2011 amounted to 42 billion rubles and 40.5 billion rubles respectively. According to data from search engines, at least 2 percent of all ad budgets account for alcohol promotions. Furthermore, vendors say that companies spend approximately 10 percent of their ad budgets on alcohol promotion through news outlets and 15 percent through non-information platforms in the Russian segment of the Internet. As for print media, companies allocate up to 5 percent of their ad budget on alcohol endorsements.
Industry specialists believe that companies may suffer losses of up to 8.5 billion rubles (about $261 million) because of the new legislation.
Gleb Sakhray, head of the PR-Technologies Agency believes that the scale of losses will vary depending on the market segment and the target audience affected.
"The losses will be really huge. For glossy magazines, I think their overall ad revenues will shrink around 20 – 25 percent. The same will happen to Internet platforms that cater to well-off audiences, primarily Afisha and the like. In addition, sports websites that counted on revenues generated by beer advertising in the second half of the year will be in trouble. Finally, web portals like Mail.ru, which actively promoted alcohol, will also sustain heavy (although somewhat smaller) losses of about 10 – 15 percent," Sakhray said.
Alcohol advertisements had already been banned from the front and back pages of magazines and newspapers, from daytime television and radio, and from mass transit vehicles.
After the last marketing channels of the internet and printed media are shut down, market participants will start looking for ways to evade the law, especially since it has plenty of loopholes, according to Vladimir Yurasov, a lawyer at Knyazev and Partners.
"The law is definitely half-baked. It makes it impossible for regulatory authorities to ensure compliance with the new legislation competently and, what is more important, efficiently. Any law, before it is passed, needs to be examined not only by legislators but by lawyers who work in this industry. There is one more thing. A law, if it is broken, is supposed to incur financial liability, and a pretty substantial liability at that. As far as I know, the fines that may be imposed for breaking this law are not sufficiently high," Yurasov said.
Finally, experts agree that alcohol brands may be used in marketing campaigns for bars and restaurants in order to circumvent the law.
First published in Russian in Kommersant.ru.
All rights reserved by Rossiyskaya Gazeta.