Olympic fever brings Russian ice to London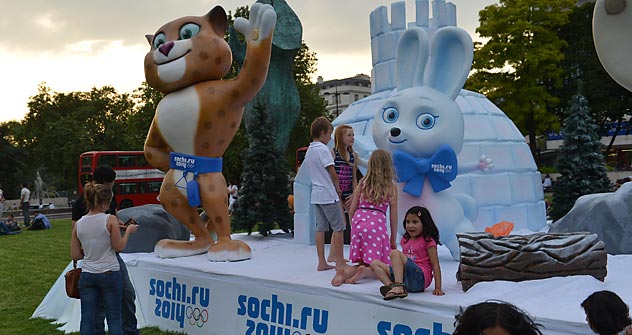 The "Russia.Sochi.Park" in London will promote the 2014 Winter Olympics in Sochi and showcase Russia as a sporting, business and cultural venue. Source: RIA Novosti / Vladimir Pesnya
Two ambitious Russian-themed areas are opening in London's Kensington Gardens to coincide with the London Olympic Games.
The areas will promote the 2014 Winter Olympics in Sochi and showcase Russia as a sporting, business and cultural venue. According to organizers, the "Russia Park" on Perks Field, between Kensington Palace and the popular Diana memorial playground will house "picnic zones, performance spaces, a sport activities area" and more; the "Sochi Park" on the Albert Memorial Lawns, opposite the Royal Albert Hall, promises an interactive ride through the mountains and a huge ice rink with "the biggest ice show ever to be staged outside Russia."
Sport, singers and shashlik
The 10,000-square-meter Russia Park will feature a live stage, open air arts-and-crafts galleries, "roaming performers" playing different kinds of Russian music and traditional cuisine, including the classics: shashlik (kebabs), pirozhki (pies) and blini (pancakes). The superlatives are out in force here too, with organizers threatening the largest-ever display of Russian culture in London. And, of course, visitors can watch the Olympics live on big screens throughout the parks. The excitement kicks off with a party during the screening of the opening ceremony on the evening of July 27.
Seraphima Onofrei is head of PR and marketing for the parks. She arrived in London in December and says she has never been so busy in her life. The most exciting part for her is the scale of the events, the huge celebrity involvement and the "size of the Russian footprint that is about to land on London; it will be grand and spectacular."
Onofrei stresses the family-friendly nature of the parks. The organizers are planning all-day entertainment for kids and Onofrei notes that children might play in the sports' area, with its mini ice rink, while their parents relax in the picnic zone. And, in contrast to the manic energy of the screened and live performances, there are free yoga classes every morning.
The idea of the parks is partially to provide a more complete picture of Russia to those attracted by one particular aspect. For instance, "if people come for the rock festival and as a result get a better picture of Russia as a whole, that's our mission accomplished," Onofrei said. She herself is excited to meet some of the visiting celebrities, and hopes that even Russian President Vladimir Putin will put in an appearance at the parks when he comes in a private capacity to watch the Olympic judo.
Moscow-style nightlife
All kinds of choirs and theater companies are scheduled to appear on stage, including participants from this year's Red Rocks music festival. Acts will include the popular band Mumiy Troll from Vladivostok and rock legend Garik Sukachev.
Meanwhile the "House of Russia Hospitality Center" has attracted a series of big conferences. The center will be hosting this year's Russia Investment Roadshow, which boasts an impressive list of visiting CEOs, a gala dinner and the glamorous Moscow Motion party.
Whether some of these events are designed to reinforce or dispel preconceived notions is unclear. Moscow Motion claims to offer opportunities to find out what it means to celebrate in Russian style and test out "some of the more intriguing rumours about Moscow nightlife and Muscovites." Onofrei said, describing the party: "I think it'll be the usual: beautiful women, a lot of vodka and partying until dawn." Onofrei isn't worried about the idea of pandering to stereotypes. "We've got a very serious sporting team coming over and some impressive technology on show at Sochi Park. I don't see why we should be afraid if, alongside that, people see we know how to party."
The party's promoters are clearly not in the business of managing expectations downwards. They promise "the greatest party on earth" and warn Moscow Motion's guests to "expect nothing less than to be amazed." It's not only the décor that's dressed to impress, but a guest list of "celebrities, fashion designers, models and media personalities."
House of Russia is also hosting the global Sports Industry Congress, which was first held three years ago in London and is focusing on Russia this year, which is hardly a surprising decision with the the Winter Olympics and Grand Prix coming up in 2014 and the World Cup in 2018.
Onofrei has also had the idea of linking the House of Russia Center with other international centers in London during the Olympics, including the Holland Heineken House at Alexandra Palace, the Casa Brazil at Somerset House and the nearby Africa House, among others. "We are extending invitations to all of them," she said, "so athletes could maybe play games together or their performers could visit our spaces."
Ski-lifts and skating
Sochi Park will be importing the "beauty and spirit of the Russian winter" with an ice dance spectacle called "Sochi: Small Stories of a Big City." The show is set to involve six Olympic and 18 world figure-skating champions, as well as dancers, acrobats, 250 handmade costumes and seven tons of props. Next door, the Sochi visitor experience Pavilion offers a virtual chairlift ride and skiing trip through snowy mountains.
Entry to both parks is £20, but half price bookings are available by signing up for the "Russia.Sochi.Park" newsletter. Tickets for the show in the Ice Arena start from £25 at the box office and are also cheaper online. Onofrei says the tickets are a great value, given the number of stars involved and points out the variety of experiences available across the two parks. "So many facets of Russia are brought together here," she said; "ours is a huge country with 11 time zones and so many different cultures. We really want to represent as many as possible of them through food and music, sport, art, culture and rock'n'roll." She sees the parks providing an opportunity "to interact with Russians, to really meet them and learn about Russia."
All rights reserved by Rossiyskaya Gazeta.