Gold medalist Galstyan: "Family comes first, my country second"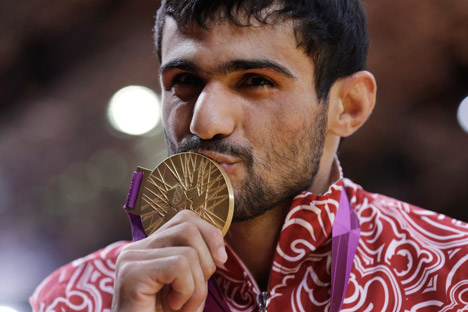 Arsen Galstyan: I hope my medal will bring people a little joy for Krymsk. I want the flood victims to hold their heads high and find the strength to cope with their problems and go on living. Source: AP
Judo wrestler Arsen Galstyan won the first gold medal for Russia in the under 60kg weight category, defeating Japanese Hiroaki Hiroaku in less than a minute.
Gazeta.ru: Isn't there a fear that success will go to your head?
Arsen Galstyan: Yes, indeed! They gave me a fantastic welcome at Russia House. I've never experienced anything like it. I have no fears that success will go to my head. I know how to be on my guard.
Gazeta.ru: This medal came as a surprise to many. Did you yourself believe in your success?
A.G.: I took a long time preparing for these Games. I trained hard and all my thoughts were about the Olympic gold. This was the mood that brought me victory. I managed to catch my opponent in the first minute, which gave me a clean victory. The quarterfinal and semifinal bouts were the most difficult.
Gazeta.ru: In your first interview after your victory, you said you were dedicating your victory to your family and the people of Krymsk.
A.G.: Of course. For me, my family comes first and my country second. As for Krymsk, I hope my medal will bring people a little joy. I want the flood victims to hold their heads high and find the strength to cope with their problems and go on living.
Gazeta.ru: Do the judo competitors feel special support because judo is President Vladimir Putin's favorite sport?
A.G.: Yes, of course. We are proud that our country's president goes in for judo. The president has met with our team several times. He always had faith in us, supported us and now we are ready to win gold medals.
Gazeta.ru: Before the games, you said that the most difficult bout would be with the Uzbek athlete whom you beat in the semifinal. After that victory, did you feel you had it made and that gold would be yours?
A.G.: I was sure of myself even before the semifinal bout. But even after beating the Uzbek, I did not relax for a second, because the man I would face in the final was every bit as strong. So, I psyched myself up even more. I entered the final with a determination to win.
Gazeta.ru: The buzz on the Internet says that while, previously the most famous Russian Armenian was Mikhail Galustyan, now it will be Arsen Galstyan. Are you ready for such fame?
A.G.: Yes, I am ready for anything.
Gazeta.ru: Tell us a bit about your family. Who are your father and mother? Is your family a big one?
A.G.: My family consists of father, mother and three brothers. My older brother, myself - the middle brother, and my younger brother. We wanted to play football but it somehow happened that we took up judo. My younger and older brothers are judo masters. We all went in for judo and we are still into it.
Gazeta.ru: What will you do now you already have your medal? Surely you will have free time. Will you go sightseeing or will you be in the gym rooting for your team?
A.G.: I will stay here until the judo competitions end. It was arranged that we would stay and back our team and be together. As for my free time, I don't know. Just now I want to catch up on some sleep and tomorrow, I'll wake up and go to root for our next wrestler. They need support and I'll be there to back them. And when I have time, I'll try to see something of London.
First published in Russian in Gazeta.ru
All rights reserved by Rossiyskaya Gazeta.