Seniors find new outlets online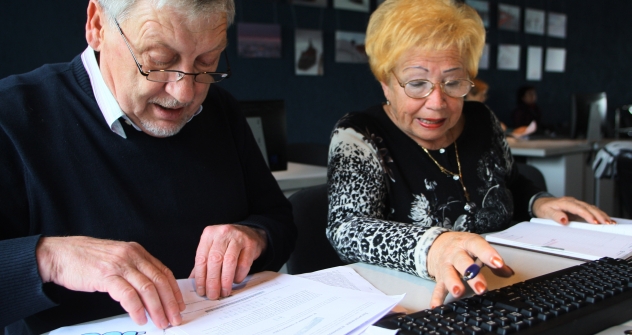 Pensioners attend computer literacy courses for elderly people as part of the Generation Link program in Kaliningrad. Source: RIA Novosti / Igor Zarembo
Enthusiasts keep launching websites for seniors despite a skeptical attitude by many investors.
Ivan Osadchiy became concerned about the online illiteracy of the older generation and, consequently, their detachment from their families and society, two years ago when he lived in New York and his 70-year-old father was taken into a heart disease center in Moscow. "I could not contact him and I was very much concerned about it," said Osadchiy, and as a result the former McKinsey consultant decided to create a service to help seniors learn the ropes of online communication.
In early 2012, Osadchiy launched Family Ribbon, an online service that gives newcomers to the Internet a crash course in Skype, Facebook and online photo services. The software is designed for family communications and while it is suitable for all ages, it is targeted at the old and the young. It has a simple interface and options for remote settings and control. The program also has reminders to help seniors take their medicines at the right time or remember their grandchildrens' birthdays. Security settings help control the contacts of inexperienced users and safeguard them against scams.
Many investors are skeptical about the market for online services for the 50+ generation. This skepticism was fueled by the failure of some technology startups, such as the Jitter Bug telephone service for seniors and Presto online service, which was integrated into printers to print out e-mails. But, Osadchiy says, the elderly still need to communicate with their families and that is where Family Ribbon steps in.
"Statistics prove that, as soon as seniors get online, they tend to spend more time surfing the net than teenagers," said Osadchiy. He cites the example of 87-year-old Cindy from Utah, who was computer illiterate until recently, but her wish to communicate with her six children and 30 grandchildren and great-grandchildren was so strong that she learned how to use the new service.
In June, Russian-language versions for iPad and Windows became available for download at www.FamilyRibbon.ru. The iPad version retails at $4.99 but the developers hope to be able to distribute it for free in the future and make money on additional services, such as text messages, according to Osadchiy.
Out of work, but not out of time
The number of Internet users over 60 opening accounts on social networks more than tripled in Russia last year. Fifteen percent of users over 60 had social media profiles in Feburary 2011, but a year later, the percentage had risen to 47 percent.
Arkady Moreinis, Director of the Glavstart venture fund, says that Russia's own online services catering for people aged over 50 are still in their infancy as startup ideas. He believes that five to seven years will be needed for such projects to become operational. However, more traditional market segments are already offering services and special-purpose companies designed exclusively for seniors. Last year, Olga Shtauberg, co-owner of the Forafarm Group, unveiled ForaFarmTravel, a travel agency for people over 50. Its tours are generally 10 percent cheaper than the market average and tourists are accompanied by a guide and a medic.
"We adapt tours to seniors and their needs – the flights are short, excursions are unfatiguing, and all groups have tourists of more or less the same age," said Irina Solovyova, Forafarm PR Director. The agency has created a club for its customers called "Off-peak Season" where seniors can meet when they are not on vacation.
In the United States, entrepreneurs are targeting the 76 million members of the baby boom generation who are getting close to retirement. But despite the size of the group, venture investors have been reluctant to fund companies that target them. "We want a company that's day-to-day on people's minds, companies that have longevity with a customer," said Xander Mahoney, an investment professional at venture capital firm Draper Fisher Jurvetson, "not something you sign up for a year before you die."
Nevertheless, there are some success stories. Venture capital firms have invested $20 million in a company that developed a segment for seniors at the website caring.com. The success of this elderly care project came as a surprise, because the service is designed to address a problem, not an age group, says Caring.com CEO Andy Cohen. And entrepreneurs Sue Kruskopf and Nancy Bush have had success with the idea of MyWonderfulLife.com, a website that helps baby boomers plan and arrange their own funerals –from food to coffin designs
At this year's Plug and Play tech conference, Ivan Osadchiy's Family Ribbon project was named the best startup out of 200 projects from around the world, indicating that perhaps the future of the Internet does lie with the older generation.
First published in Russian in Vedomosti.ru
All rights reserved by Rossiyskaya Gazeta.