Business ombudsman's powers to expand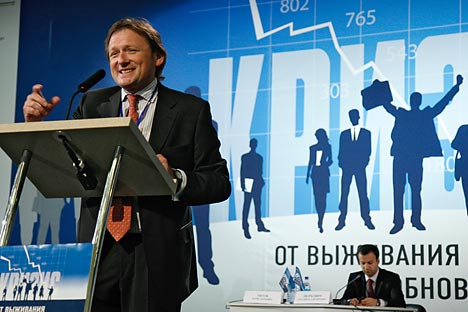 Russian business ombudsman Boris Titov: Commission for Entrepreneur's Rights will be a real system intended to protect entrepreneurs' rights. Source: Kommersant
A new commission with branches in Russia's regions will also work to protect the rights of entrepreneurs.
The office of Business Ombudsman Boris Titov is set to expand. In his work assisting entrepreneurs, Titov will now be assisted by a new Commission for Entrepreneur's Rights. It will consist of a central commissioner and community commissioners, who will be responsible for particular areas of concern to entrepreneurs. The commission will also have representatives in several Russian regions.
"It will be a real system intended to protect entrepreneurs' rights," said Titov, describing the commission. "It will help the entire state system – law enforcement, administrative agencies – regulate the economy and ensure the rights of business representatives without whom any further development is impossible."
The office, which will employ about 35 people, will work in coordination with non-governmental organizations including the Russian Union of Industrialists and Entrepreneurs (RSPP), Delovaya Rossiya and Opora Russia. In addition, Titov plans to establish a situation center where entrepreneurs will be able to consult with lawyers. "They may address to this center not only with the matters of business safety, but with a broad range of other issues in which business gets in contact with the state," Titov said.
The commission will organize activities in individual areas as well, to inform entrepreneurs about such issues as taxation, customs, licensing and certification, building, protecting foreign investors here and Russian investors abroad. "For each area there will be a separate public institution which will be headed, as we hope, by a community commissioner," Titov said.
According to him, the structure of the commissioners' institution and the statute of community commissioners will be detailed in the law that regulates activities of the commissioner, which is scheduled is to be adopted by December. The law will also explain how regional commissioners will be appointed. According to a preliminary reading, candidates can be suggested by an association of entrepreneurs or candidates can nominate themselves. After the nomination period, the candidates will be presented to regional heads for their approval. According to Titov, President Vladimir Putin has already agreed to this procedure.
There has also been discussion over creating a working group in cooperation with the Ministry of the Interior and the public prosecutors' office, although there has been some discrepancy over the cooperation between the two bodies. Titov would like representatives of the entrepreneur's commission present during police searches of businesses; the Ministry of the Interior has responded that such a move would be possibly only by amending the criminal code. According to Andrei Nazarov, a co-chairman of CPP, during a meeting between Titov and Interior Minister Vladimir Kolokoltsev on July 19, Kolokoltsev said that the commission would be informed about searches only after they had begun.
"Both parties agreed with the fact that this procedure is within the current legislation," Nazarov said. According to him, some amendments will be required in order to enable the commission to interfere in the procedures carried out by the law enforcement officials.
Titov himself is still positive about the potential agreement. "You'll see the agreement signed with the Interior Ministry," he said at the press conference announcing the new commission. According to Titov, there is a "normal constructive dialogue" in progress.
First published in Kommersant Daily.
All rights reserved by Rossiyskaya Gazeta.