Immigrants take language tests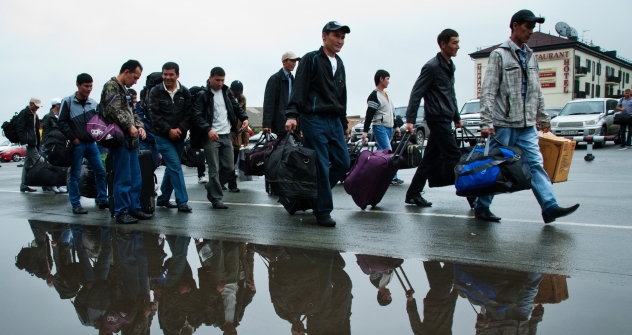 St. Petersburg State University conducted the first language test for immigrants to determine their proficiency in Russian. Source: ITAR-TASS
St.Petersburg State University begins a pilot program to test the Russian language skills of foreign residents.
St. Petersburg has become the first city in Russia to begin testing the Russian-language skills of immigrants. The test is done on a computer monitor with a touch screen. In the first section of the test, candidates read a question on the screen then touch correct answer in it. For example, the sentence "I forgot the magazine" would be followed by answer choices table, on table, on the table.
The next block of questions is designed to test applicants' abilities to go about daily life. It assesses whether or not the applicant is able to ask for directions in the streets, read job ads and buy groceries.
The tests developers consider 800 words the minimum vocabulary, but even with questions using this minimal level of language, 20 percent of those tested are unable to pass.
"A large number of immigrants do not know Russian at all," said Konstantin Romodanovsky, director of the Federal Migration Service. "In 2010, 22 percent of immigrants from Uzbekistan, Kirgizia and Tajikistan did not learn Russian in school. In 2011, the number of them increased to 24 percent. That leads to absurd or dangerous situations. For example: a police officer says 'Stop' to an immigrant, but the immigrant starts running away because he does not understand the officer and is afraid of him."
So far, the project of tests are voluntary, but there is discussion that demonstrating proficiency in the Russian language should be mandatory for foreigners who do not require a visa to live and work in Russia, but are employed by the housing and utilities, retail and consumer services sectors.
After successfully passing the test, participants receive special certificates issued by St. Petersburg State University, which is supervising the project.
The tests have been designed to test the knowledge of everyday Russian and do not ask any questions involving words specific to a certain profession, even though such words are also important.
"Indeed, in the state system of testing language skills the tests for professional terms are not included. We are aware of this problem and currently engaged in designing new methodic to resolve it," said Evgeny Yurkov, Director of the Institute of Russian Language and Culture of St. Petersburg State University, "but soon we will be ready to supply every test with the extended working vocabulary for every specific profession."
First published in Russian in Rossiyskaya Gazeta.
All rights reserved by Rossiyskaya Gazeta.