Mansur Isaev: Finals are always psychologically hard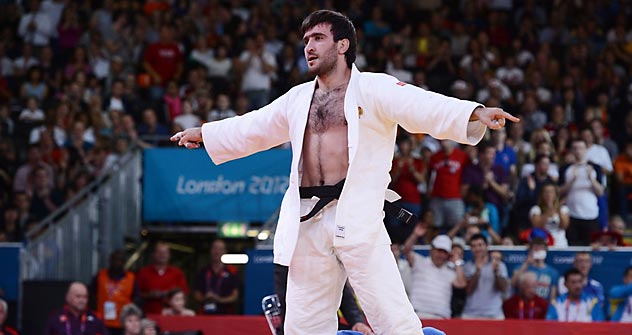 On Monday, July 30 Mansur Isaev brought a second gold in judo to the Russian team in the London Olympic Games.Source: Getty Images
On July 30, Mansur Isaev got Russia its second gold in judo in the London Olympic Games. Isaev triumphed in the men's -73kg category, by beating Japan's fighter Riki Nakaya, who is the current world-champion in judo. Isaev spoke with journalists about his achievement, his coaches and training and thanked his fans for all the support.
The Governor of the Chelyabinsk region promised to award athletes who bring home gold medals with one million dollars. Have you received yours?


It is one of the questions that I hear the most. But I need to go to Chelyabinsk first, so at the moment there is no such gift. The governor of Chelyabinsk region did in fact promise to give one million dollars the athletes from Chelyabinsk who win gold.
What made your win possible?
At previous Olympic Games, our judo team didn't take any medals home so this time no one was expecting any medals in this sport. But in the past four years many things have changed especially after new coach Ezio Gamba joined the team. Everyone in the team was performing at the highest levels reaching bigger goals every time. We participated in many matches in the last couple of years resulting in us winning medals.
How did it feel to be in the finals of the Olympic Games?
Making it to the finals is always psychologically hard, because everyone realizes that one more step and they are winners. I'm glad I overcame it and beat the Japanese fighter. My teammates and I always joke that no Japanese judo fighter has ever won a fight with a Russian.
How did Ezio Gamba react to the wonderful news?
He doesn't stop when he achieves his goal. It was his long-time dream to train an Olympic champion. I think right now he is very happy and overwhelmed with emotions. I'm looking forward to seeing him. I will congratulate him and all the coaches who trained me from early years. I am very grateful to everyone who took part in helping me develop as an athlete.
You stayed in St. Petersburg before coming to London is that true?
St Petersburg played an important role for us because the last stage of training took place in the St Petersburg region. The climate was very similar and the training base itself offered great service not only for training but also for recreation. This is why, I associate St Petersburg only with the best of feelings.
What will you do with the gold medal you have won?
I don't know yet but it will always be with me and nothing bad will happen to it.
What is the key difference between you and previous Russian judo teams that allowed you to succeed this year?
Before, athletes weren't prepared as well as they are now. Our team wasn't prepared physically as well as it is now. Not in a sense of physical power that for example bodybuilders have, but in a sense of training muscle power through wrestling. Now we have more speed, more stamina, we are able to control the entire fight from the beginning to end without getting tired. Because if you get tired you lose control.
Have you thought about competing in different categories, for example in sambo?
No, because these are two very different types of sport. They have different federations, different heats, different training techniques. There is almost no resemblance between judo and sambo.
Any words for the fans?
I would like to thank everyone who supported me. There is almost an army of fans who cheered for my win. I appreciate their support and their prayers to God asking for my win. My wish to them is to follow not only sport itself, but also the athlete, to try and understand him and to continue supporting him. It is truly a great honor for all the athletes to compete at the Olympics and to represent their country and their region.
All rights reserved by Rossiyskaya Gazeta.