Random acts of kindness online urge a new social order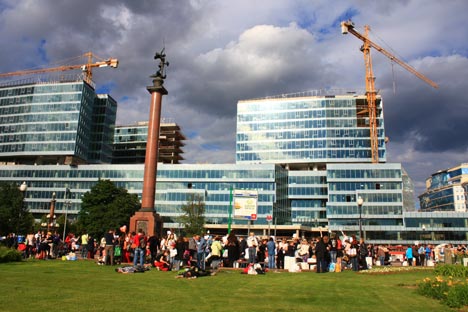 The participants of the Daru-Dar project meeting in central Moscow for gift exchange. Source: Press Photo
Daru-Dar is an Internet site where anyone can give a gift to a stranger, receiving only gratitude in return. Run by idealists, the project may have found a simple way to help change attitudes.
Do you remember the last time you gave a gift? Not a gift for a birthday, Christmas or Valentine's Day, but a gift without any reason? No doubt, the question can be confusing: Why give a gift without a reason?
When a group of likeminded people decided to create an Internet site for free gift giving three years ago, they found they had to redefine the concept. One of the site's founders, Maxim Karakulov, said, "When we were launching the Daru-Dar project, we faced the problem that the notion of 'gift giving' didn't exist at all…. Gift giving was understood as a gift from God, a gift from the state, or an artist's gift to a museum. We tried to demonstrate that it could be different, that gift giving is natural for each of us, that it could be done every day."
Of course we exchange gifts with our friends and relatives on holidays but most are stored in a closet - somewhere. But what happens to used phones and laptops in good condition? Many of us don't know what to do with the things we have, and we are constantly upgrading.
The Daru-Dar principle is simple: If you have something you don't need you place it on the site. Then you choose the recipient among those who express an interest. The inventory so far includes clothes, electronics, children's items, collectibles and even gold jewelry.
Sometimes really unique gifts are offered: Recently, a Russian offered a stay in his summer cottage outside Moscow, while in another case a guide offered a tour of his native city as a gift.
More than 143,000 users from 3,200 towns and cities worldwide are registered on the site. Russian-speaking people from Ukraine, Belarus, Kazakhstan, the United Kingdom, France, Germany, Spain, Japan, Argentina, the United States and other countries have already joined the community.
What is the secret of the site's success? The ability to get rid of unnecessary things through the Internet is only one reason.
"At first, I was impressed by people who thanked Daru-Dar for an opportunity to find new friends," Karakulov said. "The community members in Moscow have a special time on Friday evenings, when they can come to the city center to exchange gifts and get acquainted," he said.
Karakulov graduated from Moscow State University with a degree in economics in 1999, but these days the "interaction designer" espouses an alternative economy. And it turns out that people like giving presents a lot. They write on the site that they experience joy from the sense of being helpful to someone.
The site's founders believe that they have created a social community of people who now find it natural to give. Members also see the possibility to change attitudes.
Karakulov said "it is customary to think that the world changes during revolutions, when the old order is ruined. Change in the world is associated with violence, destruction or disorder. But true change implies something different."
This philosophy echoes the ideals popularized by Jacque Fresco, an American philosopher, designer and futurist. Fresco, author of the book "The Best Money Can't Buy," celebrated his 96th birthday this year. But he managed to conduct a Moscow lecture by teleconference, during which he expressed his confidence that alternative values can replace money in society.
Why should we depend on a financial bubble that can burst at any time? Fresco is an architect of the resource-based economy, which centers on a holistic, sustainable metropolis that depends on renewable resources and social cooperation. According to Fresco, social cooperation that includes gift giving is one of the first steps towards this kind of society.
Will the 143,000 idealists from Daru-Dar manage to change our material world? It's difficult to say. But it's heartwarming to know they are among us.
All rights reserved by Rossiyskaya Gazeta.