Nine years, two months, 12 days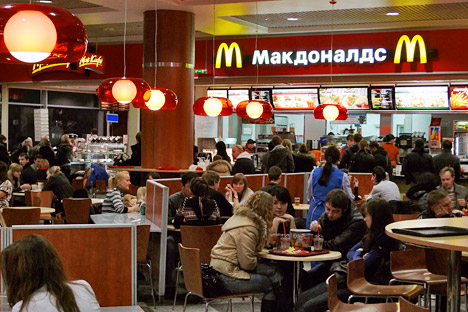 Expats encounter many familiar brands in Russia every day. Source: Kommersant.
The decision to become an expat family again brings new challenges even to an experienced Russia hand.
"Where am I going to play soccer?" This was my daughter L's first question upon arriving in Moscow. This kind of question was much harder to answer than the ones that faced me when I moved to Moscow for the first time. My journal entry from May 15, 2003, notes that I was pleased to discover that the bottle warmer worked – although I had to run it through two cycles to get the bottle the right temperature.
I arrived at Sheremyetevo airport in May 2003 with eight suitcases and a two-month-old baby. I was 24 and the idea of moving to Moscow was like a slightly crazy adventure I hadn't completely thought through. I didn't have any preconceived notions about what my life would be like, although I had a vague thought it would be like the summer I rented an apartment in St. Petersburg and did research for my graduate thesis. I didn't know anything about expat life and barely anything about parenting. During the five years I lived in Moscow the first time, I really became an adult. I got my first job, I had a second child, I learned to be (a little) more flexible.
When I arrived at Sheremyetevo at the end of July 2012 with eight suitcases and two kids in elementary school, I like to think I had a better idea of what I was getting in to. I knew where I wanted to live, where the grocery was, how to go about getting the things I really needed, like a phone. Then. "Where am I going to play soccer?" and "When can we go to the library?"
The thing about moving with a baby is that babies don't need much to be happy. Tweens, on the other hand, seem to need a lot to be happy, and the things they need are rarely identifiable. I never seemed to master the difference between a squinkie and a sqwishy, much less buy the right one for a birthday gift. I doubt I'll even know what little piece of plastic is popular among the Russian grade school set.
I've never been one of those parents who makes life decisions based primarily on the perceived happiness of my children. My husband and I didn't ask our daughters if they wanted to move back to Russia; we knew weren't going to turn down better job opportunities to keep our elementary-school-age children in their comfort zone. But finding ways to engage our girls and integrate them into the move and their new life in Moscow is still important – and not just to avoid massive rounds of eye-rolling.
And so, during my first few days back in Moscow, I took my daughters to the mall where we pointed out stores that we visited in Washington, and ones that looked worth visiting – or avoiding. We ate at the food court – but we had blini instead of hamburgers. I researched rock climbing centers and dinosaur museums, put out feelers on ballet schools, and forced myself to approach the surly office staff at the Library of Foreign Literature to get access to the American Center.
Many of my efforts were still rewarded with eye-rolling, but my hope is that in watching me operate far outside my comfort zone in a language I speak far worse than they, I showed my daughters that I wasn't expecting anything of them I wasn't expecting of myself. And by the end of our third day back in Russia, L threw away the sign she had made that read: "No Russian in this house!"
And I learned that babies had the secret of happiness all along – all any of us really needs is to be surrounded by people who love us and want to make our lives the best they can possibly be.
All rights reserved by Rossiyskaya Gazeta.