Putin has congratulated the British prime minister on the "wonderful" opening ceremony
Russian Prime Minister Vladimir Putin has congratulated the British on the "wonderful" opening ceremony of the current London Olympics.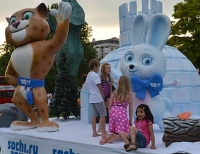 "I want to congratulate the prime minister and the entire people of Britain on that wonderful, magnificent spectacle, the opening of the Olympics. It was very impressive. You gave a wonderful celebration to the entire world, the entire mankind," Putin said during a meeting with British Prime Minister David Cameron at 10 Downing Street.
Mentioning that Russia would host the 2014 Winter Olympics, Putin said: "Of course, there arise a lot of problems in organizing such big events, and we have been interested to see the experience of our British colleagues."
Putin thanked Cameron for inviting him to the Olympics.
Cameron said he would enjoy visiting judo contests with Putin. After the meeting, Cameron said he and Putin had discussed the London games and the 2014 Winter Olympics in Sochi.
All rights reserved by Rossiyskaya Gazeta.