Sofya Velikaya of Russia won Olympic silver in fencing's individual saber
South Korea's Kim Ji Yeon won gold in fencing's individual saber on Wednesday night, beating Russia's Sofya Velikaya who finally captured Olympic silver.
Kim fought to a 15-9 victory to win the title.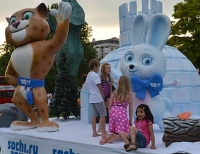 "I feel like I'm living a dream. I can't believe that I really won a gold medal. I'm so happy for that. I still can't feel I've just become an Olympic champion," Kim said. "I still haven't realized that I won the gold medal, I think some time will pass before I completely understand what I've done tonight."
Velikaya said she didn't arrive with astromonic expectation.
"When it comes to Olympic medals, I'm anyway happy with any of them. Still, of course, I was just one step to get the gold medal and I'm quite frustrated not to get it."
To get to the final, Kim beat reigning Olympic champion Mariel Zagunis of the United States.
Ukrainian fencer Olga Kharlan defeated Zagunis in the bronze medal match earlier Wednesday.
First publisshed in RIA Novosti.
All rights reserved by Rossiyskaya Gazeta.