Offering food for the world-weary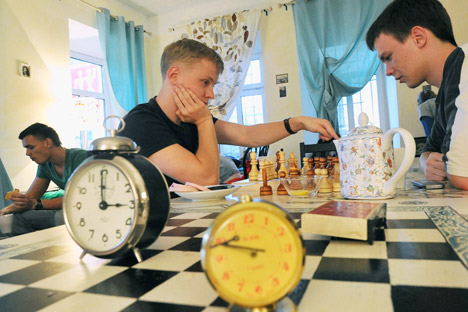 the Tsyferblat café offers a series of activities in addition to its regular menu to attract customers. Source: Kommersant
Restaurants are popping up in the Russian capital, but with few people regularly eating out, the competition for customers has spawned some interesting developments.
The average Russian visits a café or a restaurant about seven times a year, according to a recent study by BusinessStat. The survey also found that although the restaurant business in Russia has grown by 17.8 percent over the past year. The number of customers at restaurants and cafés increased by just 3 percent.
In order to cope with this increased competition, Moscow restaurants find they have to expand their offerings. This process is referred to as "restaurant+." The pioneers of this value-added business model are Dmitry Itskovich and his former business partner Mitya Borisov. Their first restaurant also had a bookstore attached. The model has expanded somewhat since then. In 2010, Borisov and Dmitry Yampolsky opened the Mart Café. It was located on the ground level of the Moscow Contemporary Art Museum, creating a single space that brought together not only a café and a book shop, but an exhibition area, a music club and a greenhouse.
The Shardam Club at the Central House of Artists is devoted to children and is a popular place for families featuring good food and the possibility of drawing graffiti on the walls or taking part in some scientific experiment.
Wine rooms, which often combine a shop and a bar, have spawned several projects such as "restaurant+ grocery" (LavkaLavka) and "restaurant+market" (Farmer-Bazaar). LavkaLavka is located at the Krasny Oktyabr factory and allows patrons to taste home-grown produce before they buy. Popular options are goat's milk in a can at 350 rubles per liter or a kilo of bulb onions "straight from the ground" for 180 rubles. You can also get scrambled ostrich eggs for 1500 rubles. The Farmer Bazaar project operates as part of the "farmers' support" program, except that the prices here are higher than average. In the farmer's market at the Tsvetnoy shopping center, shoppers can bargain over the price of giant Sakhalin oysters or a marbled beef steak.
Sometimes a project is the result of conflicting wishes of its authors. The DOME ("restaurant+cinema") project is a case in point. One of the founders wanted to have a pleasant atmospheric restaurant, while the other wanted a small cinema for friends, said Artem Kalashian, the project's PR manager. As a result, the facility has a café seating 60–70 and a projection room with cushions for up to 100 people. Synergy is achieved through the "dinner+movie" format. There is no need to reserve a seat at the cinema; instead, you can order food brought from the restaurant. The minimum order price is 1,000 rubles and the place is anything but cheap. "Visitors liked the idea of watching a film," said Kalashian, "sneak previews and special screenings of films that do not go on general release for some reason are particularly popular." Yet the owners think the no-frills cafeteria that is open on weekdays and caters to people who work in the area is the most solid project commercially.
"On the whole, conceptual restaurants remain a challenging type of business," said Yulia Matveyeva, editor of the FoodService magazine. "If you compare the earnings of a conceptual cinema club and an average Moscow Shokoladnitsa café, the latter wins hands down."
Some Moscow restaurants look more like social projects than commercial ones. For example, the already well-known restaurant V temnote (In the Dark) offers its customers the opportunity to have lunch or dinner in total darkness. Its founder, Igor Medvedev, is an eye specialist and owner of the I-Med holding. I-Med consists of an eye clinic and a restaurant in one building. Medvedev says he does not consider the restaurant to be a real business; rather, it plays a humanitarian role integrating blind people into Russian society – all the waiters and bartenders are blind. It also serves a corporate role offering free meals to the clinic's staff. The restaurant serves meals only by reservation, but has three seatings on weekdays and four on weekends.
A session at V temnote goes like this. First, in a lighted room, the visitor chooses a menu by color: white has food from all kinds of products, red is for beef, blue for fish and seafood, green for vegetarian and yellow for Japanese food. After choosing, the guest proceeds to a room in semi-darkness, where he leaves his things and is advised "to trust and not try to peek because you won't see anything anyway." After having the meal, the guests emerge into the light to be told what they had just eaten. The session lasts about an hour and a half and costs about 2,000 rubles. The humanitarian mission – to "feel what blind people feel" – has a tongue-in-cheek element. The restaurant also offers a "Dating Certificate" program, which seats strangers together. "People come here mostly in search of new sensations," said General Director Vitaly Smirnov. "Here all the social barriers – status, age and appearance – come down and the sense of taste becomes more acute."
The article is abridged and first published in Russian in Kommersant-Dengi magazine.
All rights reserved by Rossiyskaya Gazeta.