Madonna to keep Russians in shape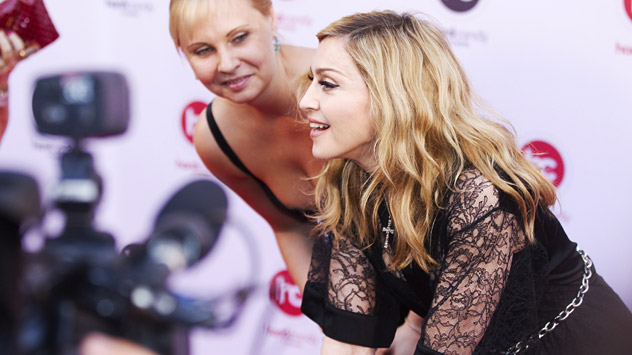 Madonna to open Hard Candy Fitness chain in Moscow in the near future. Source: RIA Novosti / Vitaly Belousov
Superstar will open new Hard Candy gym in the Russian capital.
Madonna's Hard Candy fitness chain is opening a club in the Russian capital. Memberships will cost between 45,000 and 160,000 rubles ($1,500-$5,000) per year, according to club management, but it is unclear whether Hard Candy will be able to offer Muscovites anything different from other fitness clubs.
The Moscow branch is the second in an international chain: the first opened in Santiago, Chile. Madonna herself controls the exercise program and is involved in developing the design of the clubs, said Irina Razumova, head of Hard Candy Fitness Moscow.
"We're expecting that Madonna will hold her own lesson with the clients and the instructors. The concept for the club is that it offers more than 80 different types of training programs, including Madonna's own program. You don't have to purchase all the services offered by the club: you can choose what suits you best. The pricing is quite flexible."
Madonna's Moscow club offers six fitness studios, a pool, a gym, a Russian sauna suite and a spa centre. But trainer Yevgeny Kolobkov said this center differs from other Moscow clubs only in the name of its owner.
"No one is likely to pay that amount anywhere. Yet for Moscow that's a normal price for an annual card. I think that in the United States a club that belongs to Madonna is more likely to repel people than attract them. Everyone has different opportunities. Not everyone can maintain a staff of chefs and dieticians as Madonna does. So there will still be problems, and not everyone will get the results Madonna does: it just doesn't happen," Kolobkov said.
Madonna is also planning to open a fitness club in St Petersburg by the end of the year. She is also appearing on Aug. 7 at the Olympic Stadium as part of her MDNA tour. The singer is coming to Russia as part of her MDNA tour. Her concert will take place on 7 August at the Olympic Stadium.
First published in Kommersant Daily.
All rights reserved by Rossiyskaya Gazeta.