Moscow under construction with new architect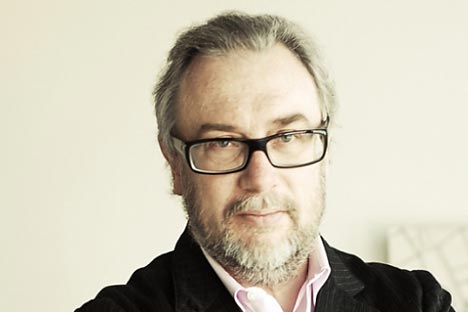 Russian architect Oleg Shapiro: "Moscow is a giant formation managed from various centers. It is also true for architecture. For this reason, a principal architect himself should be a certain synthetic figure." Source: Gazeta.ru
Moscow's city architect, Alexander Kuzmin, resigned on July 12 after 16 years in the position. Alexei Volodin of Gazeta.ru spoke with well-known Russian architect Oleg Shapiro about the situation and the challenges Kuzmin's replacement will face.
Gazeta.ru: Why did such a a prestigious position as that of the city's principal architect become so unpopular that nobody wants to take it?
Oleg Shapiro: I can't estimate the administration situation. I think the problem is different: the prestige of this position in Russia in general is rapidly decreasing. In fact, the city's principal architect turns into a kind of a deputy head of the construction department. As far as Moscow is concerned, during the last year and a half, the principal architect offered no initiatives: more often he had to respond to different initiatives of the architectural society rather than offer anything of his own.
Gazeta.ru: What challenges does a principal architect face? What tasks must be solved urgently?
O.S.: Moscow is a giant formation managed from various centers. It is also true for architecture. For this reason, a principal architect himself should be a certain synthetic figure. On the one hand, he should be able to work with a master plan for the city development, being even not an architect, but an urban planner. On the other hand, it is he who has to work out the regulations for the city development and control compliance with them: What is built, who builds it, what way it will look like taken separately and as a whole and if it complies with laws. The principal architect in Moscow has a rather large office of specialists, but to coordinate all mechanisms correctly is not an easy task.
Gazeta.ru: What about specific tasks? What areas require urgent attention?
O.S.: First of all, it is the areas where large factories were located during the Soviet era, like the closed AZLK automotive plant. The same problem is true for the ZIL plant: it used to be one of the key centers of truck production but the enterprise doesn't need this vast territory now: most of it is idle. The next problem is a great area of railways, which increase the load on radial roads: it is impossible to get from one part of the city to another without crossing a bridge or a tunnel. It means that the problems of the existing environment need to be solved. But instead of this, a plan to expand Moscow outward extension of Moscow is being promoted now. They try to solve all problems by joining new lands.
Oleg Shapiro's profile
Architect Oleg Shapiro, 50, is one of the founders of the Wowhaus Architectural Bureau, whose projects include the renewed Gorky Park, Strelka Institute for Media, Architecture and Design, Pioneer Movie Theater and Praktika Theater. Shapiro is a member of the board of trustees at the Strelka Institute.
Gazeta.ru: Do you think there should be a person to deal with the development of the New Moscow project, like the head of the State Corporation for the Development of Siberia and Far East?
O.S.: It is important to understand that the 'new Moscow' project is intended to solve the problems of the old one but fails to do so. And it can even create more problems. Let's image that we moved industrial enterprises to a certain place, but we cannot make their staff go and live there without their consent. It is a long process to make a town or city appropriate for living; it usually takes some decades. The main advantage of any city is the density of its structure and functions, which is achieved by nothing else but time.
In addition, even the authors of 'new Moscow' project still do not understand what it is intended for. If its key task is to create a reservation for officials, then they should consider a great example: Brasilia, an administrative capital of Brazil. Brasilia is an architectural creation nobody wants to live in: officials leave it as soon as their terms are expired. Nobody has become happy there.
Gazeta.ru: What do authorities offer architects regarding the New Moscow project?
O.S.: Their offer is as follows. Taking the work at the Paris expansion as an example, 10 groups were created, but their participants had to offer a plan for how to develop certain territories in a certain direction considering certain functions. It means they were limited from the very beginning. But architects could have offered something more strategic, for instance, to change the function of a territory. When the Paris conurbation was considered in France, one of the projects suggested its extension as an influence zone up to the sea coast. And in our case such revolutionary projects are cut off from the very beginning.
Gazeta.ru: What directives do authorities follow in regard to the new areas now?
O.S.: In my opinion, they keep strongly believing that people's lives can be regulated according to a plan, as it used to be in times of the Soviet State Plan. But even in Soviet times, no general layout of Moscow development was implemented for more than 10 percent, and then it was replaced by another one. It should be kept in mind that a city is a self-regulating structure and it can be only directed and corrected but not contradicted.
Full version in Russian is available in Russian in Gazeta.ru.
All rights reserved by Rossiyskaya Gazeta.