41 years after the Indo-Soviet Friendship Treaty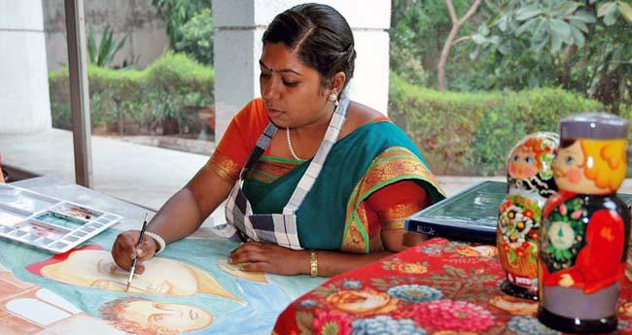 41 years after the signing of the Indo-Soviet Treaty. Source: RCSC
The changes in the still warm and cordial Indo-Russian relationship reflect the realities of the 21st century.
The Indo-Soviet Treaty of Peace, Friendship and Cooperation was a remarkable diplomatic achievement for both India and the Soviet Union. It gave India security and the backing of a superpower and the USSR ended up with an ally in the biggest and most important country in South Asia. India, which wasn't the darling of the West in its avatar as a socialist country with its "Hindu rate of growth," needed Soviet vetoes in the United Nations, the way the Russian veto is essential today for regimes in places as diverse as Sri Lanka and Syria.
41 years later, India has a US$1.85 trillion economy that grows at 6 percent in a bad year. The country has managed to develop good diplomatic and political relations with many powerful nations. Russia continues to maintain global clout and while it is not as powerful as the Soviet Union was, the country remains a major global political force as well as an emerging economic giant. The relationship between the two countries remains warm and cordial yet the bonhomie of the 1970s seems to be missing at the higher levels.
Many political analysts argue that India has been spurning Russian efforts to further develop political relations. A senior Russian diplomat who has been posted to New Delhi on several occasions expressed his frustration with India's attitude towards the Shanghai Cooperation Organisation (SCO). "We've done all we can to get India to become a permanent member of the SCO, but they seem to be unsure of entering unless Pakistan wants in," this diplomat said off the record. When I asked Indian External Affairs Ministry officials about Russian annoyances, they argued that a modern and democratic India could hardly be thrilled about being in a grouping that mostly consists of dictatorial regimes in Central Asia and which may have Iran as a member.
The 2 countries do have a convergence in Central Asia and Afghanistan. Religious extremism and violent political movements in that part of the world would have serious consequences for both India and Russia. The long-time allies are also against an Israel-Iran War and further escalation of conflicts in the Middle East. However, politically, India and Russia are slowly being seen in different camps. India's refusal to support the Assad regime in Syria may be a consequence of severe pressure from the Arab world (many Indians work in the Middle East). Russia, though, feels peeved at what it looks as an increasingly "pro-West" India. International considerations aside, I have always argued that strong political relations with Russia are in India's best interests.
41 years after the signing of the Indo-Soviet Treaty, the most important aspect of the Indo-Russian relationship remains the tremendous people-to-people friendship. Since visa rules have been simplified, there has been an ever-increasing demand among Indians to visit Russia. Largely gone are the stereotypes about the Russian mafia and the KGB. Moscow is in the must-visit list of most Indian globetrotters and an increasingly number of adventurers want to take a Trans-Siberian rail journey.
Although Goa remains the favourite destination for Russians in India, many prefer to head to Hampi and onwards to more places in southern India. Then there are the fans of Bollywood, a film industry that is finding new fans among the Russian youth. For those people who think Indian films are not popular in Russia, I would recommend a visit to popular Russian social-networking site vkontakte.ru. Almost every new Hindi film can be seen on the site, some with subtitles and others like 'Jab We Met,' and '3 Idiots' dubbed in Russian.
Indians who travel beyond Moscow and St Petersburg are often overwhelmed by the friendliness and hospitality that they get in Russia. It's beyond these 2 big cities where the "Real Russia" lives and where Russian culture can be found in an unadulterated form. Similarly, Russians who get off the tourist trail often talk about the special feelings that Indians have for Russia. Cultural festivals in major cities have shown that the Russians and Indians value each others' diverse cultures but the spirit of "Hindi-Russi Bhai-Bhai" exists in the smaller areas of both countries.
As far as political relationships go, India-Russia ties have had far more ups than downs and continue to be important for both countries. Whenever Russian or Indian leaders talk about the relationship between the countries, words like "strategic" get overpowered by the stress on friendship. The political friendship between the two countries needs to be harnessed and used in several areas, where the countries enjoy synergy. Like the people-to-people relationship, Indo-Russian ties are fundamentally strong and enjoy almost universal support across the political spectrum in both countries.
All rights reserved by Rossiyskaya Gazeta.