Svetlana Savitskaya: The first woman to walk in space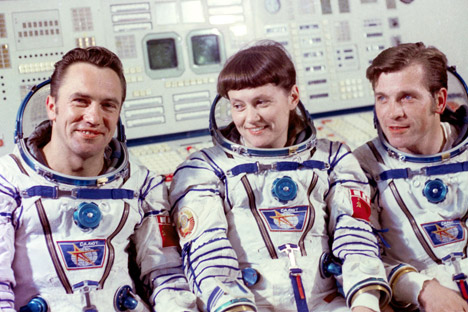 Svetlana Savitskaya, a former Soviet female aviator and cosmonaut. Source: ITAR-TASS
In 1963 Valentina Tereshkova created history by becoming the first woman to fly into space; 19 years later Svetlana Savitskaya took off and achieved another spectacular feat by becoming the first woman to walk in space.
The daughter of a pilot, Svetlana Savitskaya dreamt of flying since her childhood. Her innate stamina and strong will paved the way to seeing her dream come true. She became a world champion in flying a plane and parachute jumping, and later became a test pilot and eventually a cosmonaut. Her achievement on the field is unmatched and it is rare to find someone with a passion for flying that could even compete with hers.
Savitskaya joined the cosmonaut team in 1980 and on August 19, 1982 after extensive training she and her fellow cosmonauts Alexander Serebrov and Leonid Popov headed into space on board the "Salyut T-7" spaceship. Later on, Savitskaya described her first flight: "After the liftoff command, the rocket grumbled, shuddered and it became clear that the rocket driven into motion by the power of its engines was gradually taking off. The next moment we were airborne and began to climb. Some cosmonauts say that at this moment the colossal overload leaves them pressed into their seats. But no, the overload is not that big and a physically healthy and trained person can stand it without the slightest inconvenience.
Finally there came a push and the spacecraft separated from the rocket. We all expected to feel weightlessness but nothing unusual happened. It was only after I took a pencil tied to the logbook and held it before my eyes that I witnessed the state of weightlessness – after I let go of the pencil it never fell down but was floating in front of me.
It was well into the night and I felt sleepy. To prevent myself from sailing into another compartment I fastened my belt. The next moment I was asleep. I was woken up by a wakeup signal and I thought at first that I had been asleep for some ten minutes. But I was wrong. The clock indicated that it was time to get ready for docking with the orbital station. To my great surprise I discovered that a few hours of sleep had erased every trace of the fatigue I had been feeling before. In the subsequent days, I became yet more reassured that in the conditions of weightlessness, you need considerably less sleep to restore your strength. The docking was impeccable. The cosmonauts who had been working in orbit for more than three months were happy to receive us and the moment we opened the hatch, the fellows started filming. They gallantly presented me with flowers they had grown in orbit and those plain flowers in a transparent box were the dearest present to me. We hugged each other, kissed each other, in a word, our meeting was the usual meeting of friends who had not met for a long time".
Svetlana Savitskaya believes that a woman's presence is absolutely necessary at work in outer space. A mixed crew is much more efficient and self-control in a mixed crew is a great plus. And besides, a woman is better suited for some operations in orbit than man, for example in biotechnology. Scientists argue that the colour selectivity of the woman's eye is higher than of the man's. Women discern a greater colour gamut, which is very important in spotting mineral deposits from space. A woman's attention to detail, the experts say, is vital for astrophysical research. And anyway, women have earned themselves such a good reputation working in orbit that any dispute on whether this is more man's business than women's has become irrelevant. This does not mean, however, that anyone can fly – flying should be reserved for professionals only.
July 1984 saw another historic flight with the participation of Svetlana Savitskaya, who put in more than three and a half hours making complicated experiments outside the orbital station.
Even though space work took most of her time Svetlana Savitskaya never forgot that she is a woman in the first place with a family to look after. And after she came to the conclusion that she had done her bit in the area of space research she quit.
All rights reserved by Rossiyskaya Gazeta.