Indian energy giants eyeing LNG from Russian Far East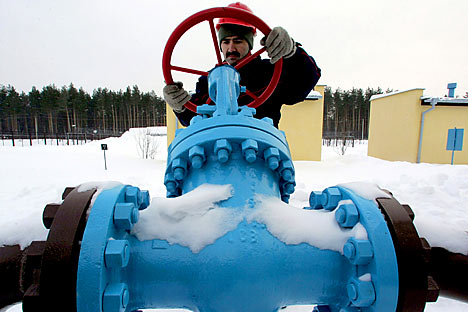 Indian energy bellwethers like ONGC Videsh Limited (OVL), GAIL (India) and Indian Oil Corporation (IOC) are looking to import liquefied natural gas. Source: Reuters / Vostock-Photo
The Hindu reported that ONGC, GAIL and IOC are looking to buy LNG from an expanded Sakhalin-2 and a new proposed terminal near Vladivostok.
Indian energy bellwethers like ONGC Videsh Limited (OVL), GAIL (India) and Indian Oil Corporation (IOC) are looking to import liquefied natural gas (LNG) from the Russian Far East on a long and medium-term basis, The Hindu said on Thursday.
Senior officials in India's Ministry of Petroleum told the paper that the matter would be discussed during Russian President Vladimir Putin's visit to India in October. Russia is considering the development of a new LNG plant near Vladivostok as well as expanding the capacity of the Sakhalin-2 project, the paper said. "GAIL has expressed its willingness to explore opportunities for equity participation in LNG liquefaction terminals integrated with upstream E&P blocks,'' an official was cited as saying by the paper.
The Hindu also said OVL is following up on an invitation from the Russian Government for participation in the Yamal Peninsula Gas project. A technical team comprising GAIL, OVL and Petronet LNG officials visited Russia and held detailed discussions with Novatek, according to the paper.
"In view of the fact that Yamal LNG is a pilot project in which Novatek has tried to externalise the risk associated with such projects bypassing the same to foreign partners, the Indian companies would require more comfort before taking a decision to enter into the project," the official told the paper.
Sistema and OVL are discussing the submission of adequate data by Sistema on Bashneft to enable OVL to carry out requisite due-diligence before submission of a bid, the paper said. The flow of information from Sistema for due diligence is highly inadequate and slow, causing a delay in decision making at OVL's end, according to the paper.
GAIL and IOC have expressed long and medium term interest in sourcing LNG from existing and upcoming liquefaction terminals. IOC is pursuing a 5 million metric tonnes per annum LNG import and re-gasification terminal at Ennore, Tamil Nadu.
All rights reserved by Rossiyskaya Gazeta.