Arkhangelsk: Town of Nordic Angels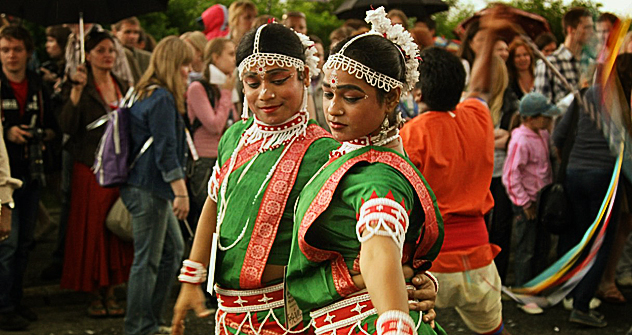 During the polar summer when the sun barely sets, the residents of the Arctic town of Arkhangelsk stay up all night to watch theater.
The performance of Milon Mela from India. Source: Alexander Ganyushin
The city of Arkhangelsk is located on several islands in the bend of the Severnaya Dvina River. It is 1,000 kilometers (621 miles) from Moscow and less than 30 km (18 miles) from the shore of the White Sea. In the summer, the city's proximity to the Arctic Circle is apparent when the sun sets at 2 a.m. only to reappear just an hour later, casting its rays across the roofs of the high-rises in the city center. During these long polar days, the citizens of Arkhangelsk choose not to sleep, but to stay up all night celebrating the Festival of Street Theaters. The week-long festival attracts more than 1.5 million spectators and 250 theater troupes from across the globe.
The festival has been held annually since 1990 and is included in every tourist guide to the city. "We are sent hundreds of applications annually. We have a great choice of participants. We review all the applicants and chose the best ones or these who fit the year's theme," said Katya Kopotun, an assistant to festival founder and current president Victor Panov. "This year the theme is clowns and acrobats. The Art Council makes the final decision. We also use the recommendations of our friends, these who organize similar events abroad. We often go on tour to them. Right now the main criteria of the choice is based on our desire to show something really new to our public, to surprise the audience."
The Organizing Committee employs about a dozen people, but during the course of the week, many fans are happy to volunteer to help out. They take such roles as organizing transport, distributing programs and welcoming guests to the Festival. Social media serves as yet another powerful information tool in which the chronicles of event are recorded and reported by civil journalists. A number of student volunteers from the North Arctic Federal University were assigned to accompany and translate for the theater troupes from abroad, giving them a great chance to practice their linguistic skills while also supporting their community.
All rights reserved by Rossiyskaya Gazeta.