Syrniki: Life is more than just a paneer!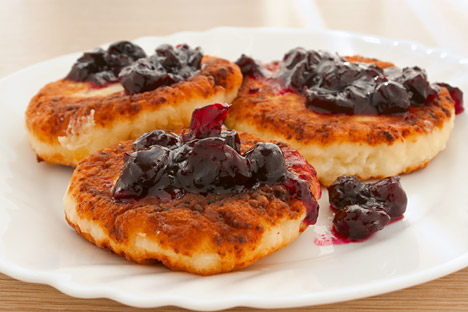 Not quite a pancake and something more solid than a cheesecake, syrniki are a delightful hybrid of both and a staple fixture in the Russian breakfast line up. Source: Lori / Legion Media.
Syrniki, from the Russian word "syir" meaning cheese, are fritters made from Russian cottage cheese called "tvorog," which can be substituted with paneer.
Take a stroll around Moscow these days and you are more than likely to come home with a kilo of cherries! They seem to be everywhere, piled high on market stalls, glistening ruby red in the sun, and impossible to resist! It's that time of the year when I find telltale cherry pits and stems all over the house: between the cushions of the sofa, under my daughter's bed, and clogging up the sink drain. I never worry about what to serve for dessert in the summer: a bowl of fresh washed cherries set down on the table, and I'm done!
This year, I treated myself to one of those cooking utensils that has only one purpose: a cherry picker. This handy little gadget takes the hassle out of the only downside of working with cherries: in the work of an instant, you extract the meat from the stone, and if you do it over a bowl, you capture the wonderful cherry juice as well! It's a wonderful addition to my growing arsenal of esoteric kitchen kit, which makes a seasonal appearance and then is packed away for another ten months. To justify its purchase, I set myself a culinary challenge to try five cherry recipes, so I scoured cookbooks from a number of different regions to come up with some ideas. The results were mixed: I put up some cherries in brandy and we will know how they turn out sometime in November. I made cold cherry soup, which frankly tasted so horrible I poured the leftovers down with the pits into the disposal. I infused some vodka with fresh cherries that was delightful in a riff on a Cosmopolitan cocktail, and I made a classic American cherry pie, which was fantastic. I had a lot of extra filling from the pie and was anxious not to let it go to waste. I rooted around in the fridge and got inspired me whip up a batch of Syrniki for a lazy Sunday breakfast, a perfect creamy foil for the tart cherry topping.
Syrniki, from the Russian word "syir" meaning cheese are fritters made from creamy Russian curd cheese (paneer) called "tvorog". Not quite a pancake and something more solid than a cheesecake, syrniki are a delightful hybrid of both and a staple fixture in the Russian breakfast line up. I first encountered them as a tour guide in Russia in the 1990s in Suzdal, where they came from the kitchen crisp and piping hot with a choice of honey or fruit preserves to top them off. If you don't have real Russian tvorog to hand, substitute ricotta cheese, which has a similar texture.
---

Syrniki:

Ingredients:
500 grams (1 lb) of firm paneer (substitute with ricotta if you're not in India and don't have paneer)
1 egg, and 1 egg yolk, beaten together until smooth
60 ml (1/4 cup) of flour divided into two equal parts
30 ml (2 Tbl) of caster sugar
1 tsp of nutmeg
½ tsp of salt
30 ml (2 Tbl) of powdered sugar
60 ml (1/4 cup) of canola or vegetable oil for frying
Instructions:
1. Preheat the oven to 180°C (350°F)
2. Place the paneer, egg and egg yolk mixture, nutmeg, sugar, and salt and half of the flour together in a large bowl, and use a spatula or the back of a wooden spoon to mix until the ingredients are completely combined. The batter should have no lumps and be slightly elastic.
3. Turn the remaining flour onto a clean wooden or stone board. Place a sheet of wax or parchment paper on a baking sheet.
4. Roll dough into golf-ball sized portions, then flatten each into disks approximately 1-1/2 centimeters (2/3 inch) thick. Lightly press each side of the disk into the flour, then place on the baking sheet.
5. Heat oil in a non-stick saucepan over medium heat. Fry the fritters for three minutes per side in batches until golden brown and crisp. Return fritters to the baking sheet and bake in the pre-heated oven for five minutes.
6. Arrange the syrniki on a warmed serving platter and sift powdered sugar over them. Serve with the topping of your choice!
Tart Cherry Topping
500 grams of ripe cherries, stoned, and their juice.
2 tsp of fresh lemon juice
¼ tsp of ground cloves
30 ml (2 Tbl) of cornstarch
125 ml (1 cup) of sugar
30 ml (2 Tbl) of cherry brandy or kirsch (optional)
Instructions:
1. Divide the cherries and their juice into two equal batches.
2. Using a potato masher or the back of large wooden spoon, masticate or crush half of the cherries with all of the sugar and the spices.
3. Place the masticated cherries and sugar mixture and cornstarch in a heavy-bottomed saucepan over medium heat until the mixture begins to boil. Reduce the heat; add cloves, and lemon juice. Cook on low heat, stirring frequently for 7-8 minutes.
4. Remove the saucepan from heat and stir in the whole cherries and kirsch. Let cool completely.
5. Store in an airtight container for up to 3 days or use immediately as a topping or pie filling.
Priyatnogo Appetita!
All rights reserved by Rossiyskaya Gazeta.