South Ossetia doomed to dependence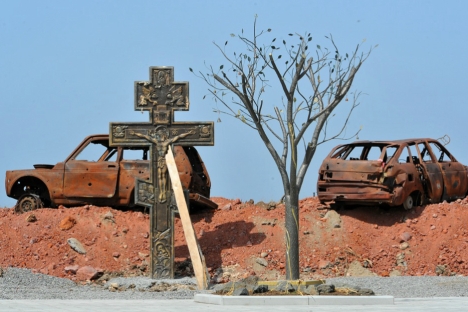 South Ossetia cannot be considered a full-fledged state from the viewpoint of its economic position and socioeconomic development, according to experts. Source: RIA Novosti
Experts believe that the breakaway republics of Abkhazia and South Ossetia cannot survive without help from either Russia or Georgia.
In the midst of the thrill of competition, the London Olympic Games witnessed at least one diplomatic scandal. The website of the Games listed the republics of South Ossetia and Abkhazia as Russian territories, rather than Georgian ones. Georgia's National Olympic Committee protested, demanding that the organizers change the designation from Russia to Georgia. The situation is noteworthy mostly because, except for this technical mishap, the West has barely noticed the existence of these two Transcaucasian states.
Following the Five-Day War of August 2008, the republics declared their independence and were recognized by Russia, Nicaragua, Nauru, Venezuela and Tuvalu. The rest of the world has continued to call for the maintenance of Georgia's territorial integrity, despite the fact that the republics rely on Russia for financial support and many of their residents hold Russian passports.
Grigory Karasin, Russia's Deputy Minister of Foreign Affairs of Russia says that South Ossetia has taken all the necessary steps to establish itself as a state.
"At present, all necessary attributes of national identity are evident, including the functioning of the system of legislative, executive and judicial authorities. South Ossetia controls its territory, develops the national economy and takes care of its culture and education. It is also important that the country has an active party and political activity, which we could observe during the rather hard presidential election at the end of the previous year. In short, an active and concerned civil society is developing in the country," Karasin said.
Other experts, however, think that South Ossetia cannot be considered a full-fledged state from the viewpoint of its economic position and socioeconomic development.
"First of all, an extremely depressive level of the region forces South Ossetia into Russia's economic space and it implies dependence on Russian loans, the Russian market in general and the labor market in particular. The key moment South Ossetia lacks is the basis for the economic development," said Alexander Karavayev, deputy director of the Center for Studies of Social and Political Processes in the Post-Soviet Space at Moscow State University.
Karavayev believes that South Ossetia can survive only due to close links either with Georgia or Russia.
"Recognizing the sovereignty of South Ossetia, we reserve its right to count on subsidies to the same extent as any Russia's entity. It is, of course, legally formalized in a different way. Nevertheless, we have to admit that South Ossetia fully depends on us," he said.
According to Karavayev, only good relations between Russia and Georgia can change the situation for South Ossetia.
Russia and Georgia, which have not had diplomatic relations since the war, are far from establishing friendly cooperation links. Moscow has said that it is ready to build cooperation with any Georgian leader, except for current President Mikhail Saakashvili.
Georgia, for its part, passed a law on occupied territories prohibiting any visits to South Ossetia and Abkhazia without notification and permission from Tbilisi. This violation of Georgian legislation is punishable either by large fines or imprisonment for up to four years. Georgian authorities say that this law will be declared null and void as soon as Russia withdraws its troops from Abkhazia and South Ossetia.
This article has been abridged from the original, which is available in Russian in RIA Novosti.

All rights reserved by Rossiyskaya Gazeta.