New Kudankulam reactors may come under Indian liability law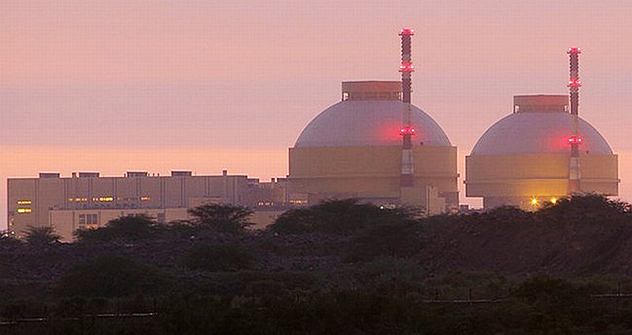 A Russian Government request that the two additional nuclear reactors to be built at Kudankulam get an exemption from India's nuclear liability law may not be accepted. Source: Press Photo
India is unlikely to exempt the 2 new nuclear reactors to be built by Russia from the nuclear liability law, according to a report in the Times of India.
A Russian Government request that the two additional nuclear reactors to be built at Kudankulam get an exemption from India's nuclear liability law may not be accepted, the Times of India said citing an official source.
The first 2 reactors that should be ready by the end of August will not covered by the 2010 liability law that makes both the suppliers and the operators of a nuclear plant, open to legal action under the "right to recourse" in the event of a nuclear mishap, the paper said. "It may not be possible for provisions of the Civil Liability for Nuclear Damage Act to be kept in abeyance for units 3 and 4 at Kudankulam," an official source was quoted by the report.
The report added that but there may be legal issues to tackle. The first two reactors at Kudankulam, units 1 and 2, were the result of a deal signed by the Soviet Union and Indian in 1988, with construction beginning in 1997. India and Russia have since signed an agreement for four additional units in 2008 that were an extension of the cooperation, the paper said.
A case was made to keep units 1 and 2 out of the 2010 law as they were seen to be the product of the 1988 agreement, but the Russian appeal that this pact "grandfathered" the subsequent deal for four additional units has not found favour with the Indian Government, the Times report said, adding that such exceptions will only lead to US and French suppliers seeking similar concessions.
Russia has asked for a suitable clarification before work on the 2 new reactors begins, the paper said. After evaluating the request, the government seems to have come around to the view that the new reactors will be governed by the liability law, according to the report. "Foreign suppliers will need to work with the Indian law from here on," the Times quoted a source as saying.


Srikumar Banerjee, a former secretary of the Department of Atomic Energy, told the paper that the Indian Government needed to consider the Russian agreement specifically as it predated the 2010 legislation. "It is a legal issue. The Indian company will be guided by the government," Bannerjee told the paper.


According to the Times of India Report, the government is treading carefully as relaxing the applicability of the liability law will give a boost to anti-nuclear activists who are smarting at being outflanked by the Centre and the state government at Kudankulam where the stir against the plant has died down.
India is hoping that the insurance agreements regarding units 3 and 4 will be sorted out soon and construction begins shortly after the two units that are now ready are commissioned, the paper said.
All rights reserved by Rossiyskaya Gazeta.