Russia expects a new gold rush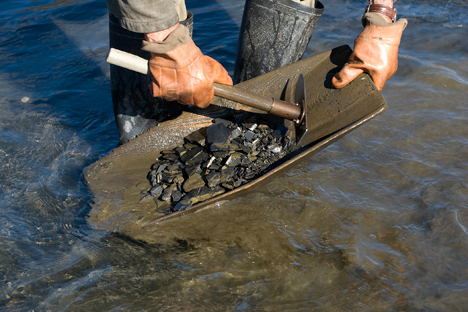 New amendments to Russia's subsoil law aim at attracting more foreign investors and geological exploration firms. Source: ITAR-TASS
Russia's Ministry of Natural Resources has proposed new regulations to attract foreign developers, but existing laws can still get in the way.
The Russian Ministry of Natural Resources has laid out new plans intended to convince more foreign companies to explore the country's strategic gold, diamond and platinum deposits; new regulations will allow foreign companies to mine the mineral resources they have discovered. Market participants agree that the new rules will increase the development of Russia's mineral resources.
There is one hurdle the ministry has not been able to get over, however: Current law gives the Russian government the right to deny a foreign company the right to develop a deposit it has explored if there is any "threat to national defense and security." The Natural Resources Ministry has suggested exempting gold, diamond and platinum fields from these provisions, since there is a pointed lack of economic interest on the part of investors in financing geologic exploration, the country has almost run out of easily discovered mineral deposits and Russian gold producers lack the resources to embark on seeking new deposits.
This is not the first time such a proposal has been made. In 2010, Polymetal CEO Vitaly Nesis protested against the restrictive legislation at the Minex conference. At that time, Polymetal submitted a letter to the government suggesting a number of possible remedies for the current situation. The list of ideas included granting investors the right to convert exploration licenses into mining ones and choosing the sites to apply for licensing. The Polymetal letter also suggested raising the bar for strategic mineral deposits from 50 to 250 tons.
Almost two years later, the Ministry of Natural Resources finally submitted the relevant legislative amendments to the Government. Foreign mining companies have hailed the Ministry's decision. The spokesman for Highland Gold's Russian office said that any steps towards strengthening the rights of companies to explored areas fosters development of the country's mining industry, leads to discoveries of new sites and, consequently, attracts additional investment and creates new jobs.
Lou Naumovski, the Russian representative of Canada's Kinross, notes that the best global practices grant subsoil users the right to use mineral deposits they discover at their sole discretion.
Naumovski has no doubt that introducing such measures would help Russia attract new investors and bring back foreign geological exploration firms put off by the Russian legislation.
However, Oleg Petropavlovsky, an analyst with BCS, believes that big global gold mining enterprises will not be affected one way or another by the legislation since, according to him, they can always exploit the existing loopholes and register a deposit to a subsidiary based in Russia.
The article is available in the original Russian in RBC Daily.

All rights reserved by Rossiyskaya Gazeta.