Russia seeks Indian help in Tiger Conservation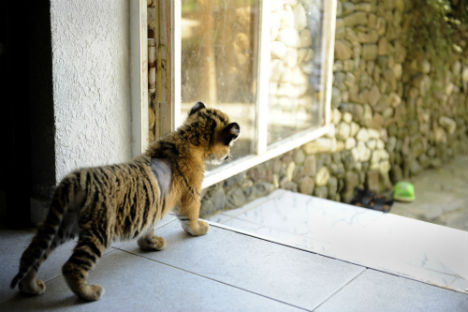 The Global Tiger Initiative estimates the global tiger population to be around 3000. Source: AP Photo/Igor Yakunin
A successful tiger relocation programme in India has caught Russia's attention.
Russia has asked Indian wildlife scientists to help implement a tiger relocation programme, on the lines of a successful experiment in India, various sections of the Indian media reported on Tuesday.
The successful relocation of tigers in the Sariska and Panna tiger reserves has attracted interest from Russia and Cambodia, according to the reports. Relocated tigers in Panna and Sariska (both of which lost a considerable number of tigers to poaching) now have offspring, the Hindustan Times reported. "The two reserves show that our relocation programme has been a success," the paper cited P.R. Sinha, director of Wildlife Institute of India, as saying.
The institute's scientists were instrumental in the success of the first projects of its type in the world, the paper said.
Russia has a population of about 400 tigers mostly in the Far East, which is the home of the Ussuriski Tiger, the largest in the world. According to the Hindustan Times report, Russia has chosen the Sikhote-Alin biosphere reserve under its Siberian Tiger Project as a potential zones for tiger relocation under the World Bank supported Global Tiger Initiative (GTI), which aims to double the present world tiger population by 2022.
Our team of scientists will be visiting Russia in mid-September to share its experience on tiger relocation," a senior Indian Environment Ministry official told the paper. "India and Russia have already signed an agreement on cooperation in the area of wildlife."
The Global Tiger Initiative estimates the global tiger population to be around 3000.
All rights reserved by Rossiyskaya Gazeta.