Be careful what you wish for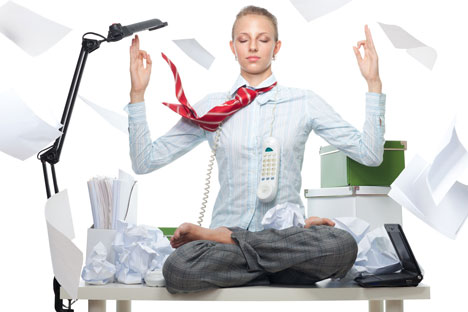 Three weeks ago the biggest decision of my morning usually involved whether to put on actual clothes or just wear yoga clothes all day. Source: PhotoExpress.
Moving sometimes just means trading one set of problems for another. There is an old adage that goes: "Be careful what you wish for, you just might get it." My move to Moscow has been kind of like that.
Not that long ago, say, three weeks, the biggest decision of my morning usually involved whether to put on actual clothes or just wear yoga clothes all day. It nearly always seemed to make sense just to wear the yoga clothes, since I was nearly always going to yoga anyway and then wouldn't have to bother changing. Then, that decision made, I considered whether to swim, bike or run. If the pool was set up for long-course swimming, then it was a swim day; if it wasn't, and the weather was cool-ish, it was a run day; if it was hot and I didn't have any plans for the afternoon, then it was a bike day. And the importance of all my other decisions went downhill from there.
I had always believed that my ideal workday would be from 6 a.m. to 2 p.m., and for two years, that dream pretty much came true. I worked from home for a Russian company, so I woke up to a bunch of emails from Moscow, which I worked through all morning. By about 2 p.m., I was usually done and all my colleagues had gone home, so I spent the afternoons working out, training for my next triathlon.
For some reason, I thought I didn't really like that life.
Working from home was not ideal. I'm not even that social, but I found it very isolating. By the end of the week, after not speaking to anyone outside my family, I either became more anti-social than normal or overshared to strangers, trying my hardest to engage the girl who scanned my membership card at the gym in conversation about something, anything, just to hear the sound of a voice that wasn't in my head.
These are the moments I try to keep present in my mind when I wake up at 5:30 to go for a run, walk three miles to work, sit in the office all day, then walk home, rushing to make it by 7 p.m. so I can cook some kind of dinner for my family to eat at a reasonable time.
The afternoons standing around the playground at my kids' school with no one to talk to, the Sunday mornings no one spoke to me in the coffee hour after mass, the eight months I lived in Washington unemployed, spending hours trolling job boards…these are the memories I try to bring back to when no one asks me to go to lunch, when I see all my colleagues at meetings I wasn't scheduled to attend and when no one speaks to me at coffee hour after mass at my new church either.
It's not that I think people are intentionally excluding me. I understand that in Moscow, as in Washington, people have their own lives, their own routines. They don't naturally think to vary them, and I am not an assertive person.
For some reason I thought things would be different here, but instead they are the same. Well, the same, but in some ways worse. For one thing, in return for moving back to Moscow, I gave up my hobby and a lot of my freedom. And in deciding to take a job that requires me to be in the office full-time, I chose to live with the reality of every working mother – succeeding at work requires failing at home, and vice versa. I've now entered a phase of my life where someone is always disappointed in me; I can only hope that they are not all disappointed at the same time.
My husband says all transitions are like this, but somehow I thought this one would be different. We were coming back to a city we loved! We had favorite restaurants, favorite neighborhoods, friends! But the more things remain the same, the more they change after all. In Washington, I felt like the person who kept talking about life in Moscow. In Moscow, I feel like the weird foreigner who has nothing to contribute.
Maybe the problem is that the city changed, but I haven't.
All rights reserved by Rossiyskaya Gazeta.