More Russians buy vacation property abroad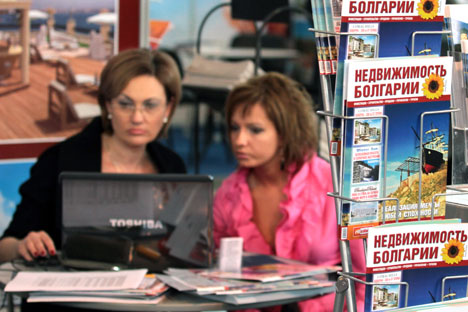 Bulgaria enjoys special popularity among Russians as a place to purchase a second home. Pictured: A Russian buyer choosing real estate in Bulgaria. Source: ITAR-TASS
More and more Russians are buying vacation property abroad, but they may not be aware of all the risks.
More and more Russians are buying vacation homes abroad. If five years ago only wealthy people could buy houses by the sea outside of the former Soviet space, today many middle-class Russians are seeing the appeal, even if it means going into debt. Many new buyers see property abroad as an investment. The financial crisis in the Eurozone has caused real estate prices in France, Spain, Portugal and Cyprus to drop, but investors believe that prices will eventually recover.
Bulgaria enjoys special popularity as a place to purchase a second home. According to the country's Ministry of Justice, about 340,000 Russians have already bought houses there. Sources estimate that Russians rank fifth by the volume of investment in real estate in Western Europe.
Experts, however, believe that these new buyers could be chasing pipe dreams. Real estate for investment and real estate for vacationing are rarely the same type of real estate, according to Gennady Gudov, director of a foreign real estate agency. "The most important thing that every potential buyer should have in mind is that if the investment in the real estate is ever going to pay off, it will take a great deal of patience."
The global financial crisis has transformed what once was a gold mine into a housing bubble. The real estate markets of Bulgaria, Montenegro, Croatia, Cyprus, Thailand, Spain, Turkey and the UAE, where Russians are especially actively buying 'houses by the sea' have frozen. There are many unsold and unfinished buildings, and buying real estate in those countries is not a problem, but it will be impossible to sell it fast if the owner is in need of money. The secondary housing markets are affected by the low demand, partially due to ever newer and cheaper offers from developers. A one-room apartment with a view of the Black Sea in Bulgaria can be had for $20,000. Sales of properties below $61,000 make up 80 percent of the Bulgarian housing market, which makes purchasing a second home there a very attractive proposition, however, should the crisis in Europe develop further, real estate prices will keep falling, notes Oleg Repchenko, head of the Property Market Indices Analytical Center. "Foreign home owners will suffer the biggest losses if separate EU countries reintroduce national currencies which will momentarily depreciate against euro and the US dollar," Repchenko said. "And the real estate prices will slump by half." According to analysts, housing in France could go decrease another 20 percent by late 2013.
But, for those interested simply in a vacation property, there is a multitude of opportunities, and Russians have been quick to take advantage of these. In recent years the number Russians willing to invest up to $25,000 in foreign real estate has grown significantly. At the same time a share of potential buyers willing to invest $60,000-$120,000 has shrunk. This trend has been developing since 2007 according to experts of the Russian branch of the International Real Estate Federation. And it signals that the middle class in Russia has grown, with its representatives buying foreign housing for their personal use, rather than as a symbol of prestige or as a means of investment.
However, Gudov points out warnings here as well. Very often foreign housing in resort towns is an emotional buy, made when people coming to vacation to a foreign country and seeing sparkling-white beaches decide to stay there forever, even if they must spend all their saving to do so. Gudov believes that Russians are particularly susceptible to "deals" offered by unlicensed sellers. According to him, there are 15 times more real estate agencies in Turkey than in any other country and very few representatives of these unlicensed companies explain that since May 2012, sale transactions have become de facto inaccessible to foreigners since Turkey amended its real estate registration rules. The system for certification of the real estate owners' rights on Cyprus is flawed as well and Spain has adopted a set of measures to increase the tax burden on foreigners.
Additionally there is the issue of taxes. Every country calculates and governs its taxes in its own way and buyers of foreign property must take this into consideration.
Incidentally, the Russian coast of the Black Sea is in little demand due to its inadequately high prices and imbalanced investment policy. Additionally, the Russian resorts do not offer the level of comfort and service that has become customary in foreign resort towns. Russia is unlikely to develop the conditions for profitable investment in residential real estate until 2018 when, as part for the National Entrepreneurial Initiative, the government is scheduled to implement the plans developed to simplify the construction permits and schedules and introduces tax incentives.
This story is available in the original Russian in Rossiyskaya Gazeta.
All rights reserved by Rossiyskaya Gazeta.