Sixty percent of workers in Russia do not relax or have fun on weekends or holidays. Instead, this group continues to work. Additionally, 2 percent of respondents do not even stop working while on vacation.
This is only one of the findings from a new Rosstat survey that looked at the health and happiness of Russians in their work life. Rosstat Deputy Director Konstantin Laykam spoke with Tatiana Smolyakova of Rossiyskaya Gazeta about the findings.
Rossiyskaya Gazeta: This was the first time you conducted such a multifaceted survey. What did you find out about labor in the country that was not known earlier?
Konstantin Laykam: We discovered quite a bit. For example, we have never had information about how many people are satisfied with their work. Most Russians are content with their working conditions – 75 percent of respondents are altogether pleased.
The survey found that 68 percent of respondents are satisfied with their work responsibilities, 64 percent are content with their work commute and employment terms, and approximately 55 percent are happy and content with work safety and occupation. However, when it comes to various criteria, the level of satisfaction differs greatly among urbanites and rural people, men and women, people of different ages and levels of education. For example, men are more satisfied with their income than women.
R.G.: What are people most displeased with at work?
K.L.: Pay. Only every fourth person is pleased with his salary. The groups most happy with their pay are working senior citizens and young people (29 percent).
R.G.: Does education influence the level of satisfaction?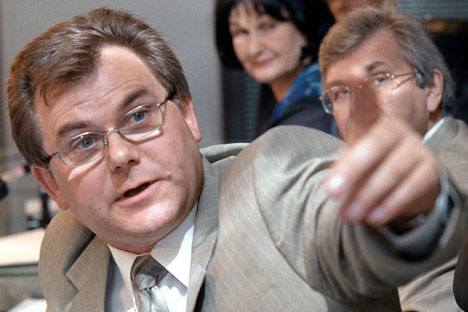 Rosstat Deputy Director Konstantin Laykam. Source: RIA Novosti
K.L.: Of course. Here there is a direct correlation: the higher the level of education, the more a person is satisfied, and the more pleased with his salary. For example, 45 percent of young adults with a post-graduate education are completely content with their earnings.
Another interesting finding is the level of income satisfaction in the gray economy is notably higher than that in the official economy, but at the same time, all of the other indicators of job satisfaction in the gray economy are much lower. And people evaluated this kind of work as having low job security.
R.G.: What about the most successful category? This is probably directors?
K.L.: Yes, two-thirds of directors in the informal sector and almost half in the formal sector are pleased with their salaries.
R.G.: And how do the results compare among social groups?
K.L.: One problematic social group is women who have taken maternity leave. The level of job satisfaction in this group (for the job they had before or after maternity leave) is substantially lower in all parameters. The survey confirmed our expectations about a similar dissatisfaction among social groups like single mothers with disabled children, young children or large families.
The importance of this statistical survey was that the number of people in these population groups with work problems has been measured. This means that now we can describe the problems in detail, localize them, and specifically concentrate our efforts and resources to solve them.
R.G.: What do people complain about the most, regarding working conditions?
K.L.: Half of workers are constantly or sometimes exposed to occupational hazards, just as much as other inconveniences (such as cold, humidity). In rural areas, working conditions in other parameters are worse than in the city. Employers generally create better working conditions for women than for men. Working conditions are better in the formal sector than in the informal. The higher the level of education, generally the better the working conditions.
Another serious problem identified is anxiety and stress. A fourth of those surveyed said that they constantly find themselves in this condition and almost half of employees from time to time. The result is 75 percent, a very troubling indicator.
R.G.: What did you manage to find out about safety at work?
K.L.: The picture is depressing. Twenty-seven percent of employees believe their jobs are completely safe, 31 percent - safe enough, every three believe their jobs are dangerous to some extent and 8 percent believe their jobs are dangerous. However, almost half of working men believe that their work is "dangerous to some extent" and 2.5 percent of respondents noted that they were exposed to at least one accident at their factories in 2011. We can agree that the situation is alarming.
R.G.: You studied not only the main work of respondents, but also second jobs. How many people work on the side?
K.L.: There were also very interesting findings here. The average number is 12 percent. However, if we look at this indicator by separate categories of workers, there are very serious differences. Let's say, 14 percent of men in the city have a second job – that's a lot. Nineteen percent of people with a post-graduate education have a side job, including 22 percent of men. Students studying part-time often work on the side, representing almost 21 percent of respondents.
R.G.: When do Russians have time to work a second job?
K.L.: Every second respondent with one job and 9 percent of those with two jobs regularly work on weekends and holidays. It is true that only 2 percent of employees in the economic sector pursue additional work during their annual or additional unpaid vacation. It is also interesting to look at some social groups here. Almost 10 percent of parents with several children and around 4 percent of single mothers work during their annual paid vacation.
This article can be read in the original Russian in Rossiyskaya Gazeta.

All rights reserved by Rossiyskaya Gazeta.