More and more Russians are choosing to vacation abroad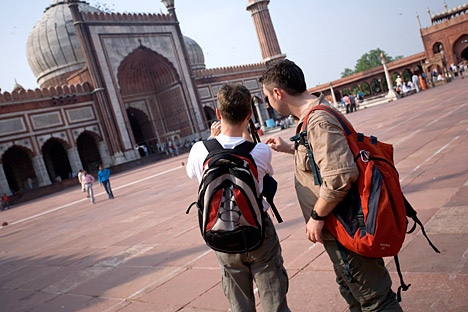 While Russia spends a lot of money in Muslim countries, it is not yet ready to accommodate a large number of tourists practicing this religion. Photo: Getty Images / Fotobank
Russia is ahead of other BRICS countries such as Brazil, India, and China in terms of the number of travelers spending vacations abroad.
Russia is ahead of other BRICS countries such as Brazil, India, and China in terms of the number of travelers spending vacations abroad, the Association of Tour Operators of Russia said. The flow of Russians vacationing internationally has grown by 50% over the past five years.
Almost 24 million Russians traveled abroad in 2011, and the trend is set to continue this year. Overall, Russians travel 1.3 times more often than Chinese, 3.4 times more than Indians, and 4.6 times more than Brazilians.
The main reason behind this frequent travel is Russia's proximity to global tourist centres. "Paris, the number one tourist attraction in the world, is certainly closer to Russia than it is to China, India, or Brazil," explained Maya Lomidze, Executive Director of the Association of Tour Operators of Russia. She added that Russia's rising living standards also have a role to play.
According to Lomidze, favourite vacation destinations among Russians include Turkey, Egypt, Spain, Greece, Italy, Bulgaria, Croatia, Thailand, Finland, and Cyprus. This "top ten" has not changed over the recent years. But there is a host of new entrants – predominantly made up of Islamic countries – that could make it into the list in the near future. "The UAE, particularly Dubai, are almost there. Morocco and Tunis also have potential," she explained.
While Russian tourists spend a lot of money in Muslim countries, Russia is not prepared to welcome large numbers of Muslims vacationers. At the same time, the global tourist industry has long been adapting to them. Many countries have built entire halal resorts and airports have established Muslim prayer rooms. Spending by Muslim tourists now exceeds average spending by all other travelers combined, and is expected to reach $192 bn by 2020. Last season Muslims – including those from oil-rich Middle Eastern countries – spent $126 bn at international resorts.
So far they have been choosing destinations with familiar culture and religion, such as Egypt, Turkey, Malaysia and Indonesia. But Australia and Thailand have also started catering to the needs of this most promising tourist population. Hotels have been opening specialist restaurants and spas dedicated to serving Muslims. Bangkok's international airport was recently named the best airport in a non-Islamic country in terms of the services it provides for Muslim tourists.
Russia however lacks infrastructure to accommodate the needs of this most promising category of travellers. "We don't have a tradition of differentiating between tourists like that," said Irina Tyurina, Press Secretary of the Russian Tourism Union. Experts believe that even if Russia ever goes in this direction, it will be mostly limited to areas with Islamic heritage.
Experts are not yet sure whether this is a good or a bad thing for the economy. They are confident, however, that Russia still has a long way to go in terms of promoting international tourism in general. "Moscow doesn't even have street signs in English, and this is something that definitely needs to be done. Public announcements in the metro are in Russian only, without so much as moving text displays in English for foreigners' convenience. The needs of Europeans are not met, never mind creating special conditions for Muslims," complained an exasperated Maya Lomidze.
It is largely because of this that, despite all of the appeal and diversity offered by Russia's nature, even European tourists seldom venture outside Moscow, St. Petersburg or the Golden Ring. "Foreign tourists have been long asking us to spare them the endless tours of Russian churches. There's so much more that they want to see. They want to experience life in rural areas, natural monuments, culture, and other attractions," Irina Tyurina said.
All rights reserved by Rossiyskaya Gazeta.