Trial made heroes of the band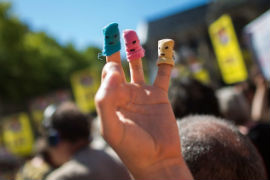 Trial made heroes of the band and brought worldwide attention.
Some 1,500 demonstrators gathered to protest the anticipated verdict, with supporters chanting "free Pussy Riot" down the street from the courthouse, where they were held back by police. About two dozen religious activists, meanwhile, joined the crowd, crying "Patriarch Kirill is our leader." One religious group burned a picture of a Pussy Riot member hanging on a cross. Police detained a total of over 20 people outside the courthouse.
Meanwhile, demonstrations of support for the group were staged beyond Russia, in cities that included London, Paris, Berlin and New York. Their trial, which began July 30, has earned the band global attention, with support from an unprecedented number of stars that included Madonna and Paul McCartney. Source: Ilya Varlamov
All rights reserved by Rossiyskaya Gazeta.