Russia optimistic that India will refloat combat aircraft tender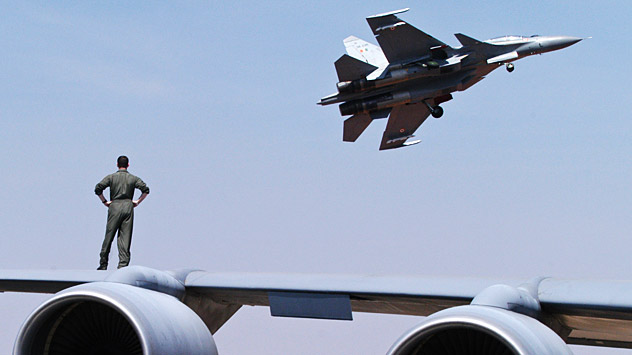 A contract for the supply to India of additional 42 long-range multirole Su-30MKI fighters to India would be signed in the next few months. Source: AP
A top Russian official hinted at discontent from both sides about the financial terms and the extent of technology transfer in an agreement where France's Rafale would sell 126 medium multi-role combat aircraft to India.
Despite France's Rafale aircraft winning the tender, last year, for the sale of 126 medium multi-role combat aircraft (MMRCA) to India, Russia is optimistic that it may have a chance at selling its planes to India, according to a report in The Hindu.
"I wouldn't say that the MMRCA tender is a closed issue. We have information that the tender is still up in the air," the paper quoted Vyacheskav Dzirkaln, Deputy Director of Russia's Federal Service for Military Technical Cooperation, as saying.
Dzirkaln was cited by the paper as telling Interfax that neither the India nor Rafale side were happy with the financial terms of the deal and the extent of technology transfer. "The sides have so far failed to reach agreement on these issues," Dzirkaln was quoted by The Hindu, which added that the Russian official did not rule out that India may refloat the tender. "In the tender is floated again, we would be prepared to take part, taking into account the lessons we have learnt," Dzirkaln said.
"India is Russia's Number One defence partner. It accounts for more than a third of the total volume of our military-technical cooperation with foreign countries," the paper quoted Dzirkaln as saying. "The potential [of Indo-Russian defence cooperation] is enormous and prospects for growth are very impressive," Dzirkaln.
Dzirkaln's comments came hours after the news was out that the America's Apache Longbow had beaten Russia's Mi-28 in the $1.4-billion Indian tender for the purchase of 22 heavy-duty attack helicopters, according to the paper. The official was cited as saying that Russia was prioritising technology transfer and license production of high-tech defence systems in its defence cooperation with India.
Dzirkaln also said that a contract for the supply to India of additional 42 long-range multirole Su-30MKI fighters to India would be signed in the next few months. "The contract is ready and practically finalised with the Indian side. It is currently undergoing procedures within the Indian Defence Ministry. We hope that it will be signed before the end of the year," The Hindu quoted Dzirkaln as saying.
All rights reserved by Rossiyskaya Gazeta.