Virgin Mobile tries again to enter the Russian market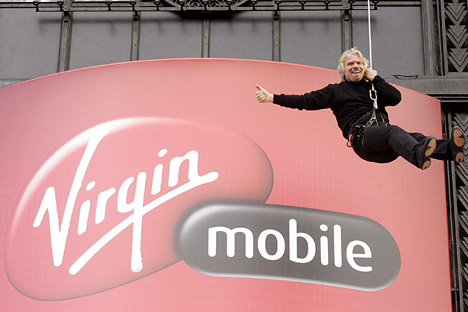 Virgin head Richard Branson descends the facade of the Virgin Megastore building on Paris' Champs Elysees. Source: Reuters / Vostock-Photo.
British entrepreneur Richard Branson is once again planning to launch his Virgin Mobile business in Russia.
The announcement of a possible entrance for Virgin Mobile into the Russian market was made at the opening of the operator's division in Poland. A source at one of Russia's telecommunications operators anonymously disclosed that Virgin Mobile is intending to build a LTE network in the 3.5 GHz frequency range, but offered no details as to how Virgin has gained access to a frequency source.
Another source claims that the possibility of collaboration between Virgin and the Russian subsidiary of Swedish-owned Tele2 is not out of the question. Tele2, which is currently searching for a partner, declined to comment on "rumors regarding any negotiations with Virgin." Tele2 did, however, admit that "the Russian market has long reached its point of saturation: the level of cellular communication penetration in Russia (159%) is above Europe's average (128%). Any entrance and development of a new player can only be done through redistribution of the subscriber base of the current players."
This will not be the first attempt from Virgin Mobile to enter the Russian market. Four years ago, Trivon Networks, which is a Russian company and a member of Branson's Virgin family (Virgin Connect brand), obtained access to the 5.6 GHz frequency range. The company was going to provide its WiMAX services in the range, but ended up launching them only in a few regions.
On Monday, several job advertisements were put up on the HeadHunter recruiting website, offering positions at Trivon Networks. In particular, the company is looking to recruit a Director General for its business unit in Russia. The description states that the Director's responsibilities will include development planning for the BU, development of its business plan and budget within the strategy of the Group, and "ensuring the active development of the BU in advance of the growth rate of the market and competitors".
Today Virgin Mobile has about 20 million users around the world. The company has divisions in Australia, the US, South Africa and Canada. As well, Branson's company is only the third global operator to enter the Polish market, after T-mobile (subsidiary of Deutsche Telekom) and Orange (subsidiary of France Telecom). Most recently, the company's services have become available in South America since April of this year. According to a Virgin Mobile representative, the operator is also interested in Turkish and Hungarian markets, aside from the market in Russia.
Original publication can be read in Russian at RBC Daily website.
All rights reserved by Rossiyskaya Gazeta.