India, Russia sign agreement on Smerch rockets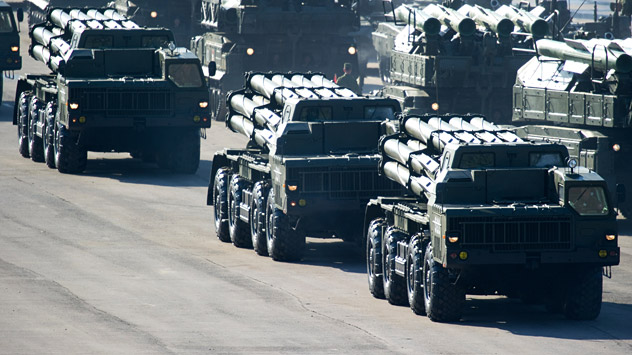 Smerch rockets are technologically superior having a range of 70-80 kms. Source: Alexander Vilf / RIA Novosti
The 80-km range Smerch rockets will be produced in India, in a joint venture with Rosoboronexport and Splav'Spa.
In another trademark defence agreement between India and Russia, the countries have agreed to jointly produce the 80 km-range Smerch rockets in factories in India, the Indian Ministry of Defence said on Tuesday.
"Ordinance Factory Board (OFB) signed an MoU for a joint venture with Russian Rosoboronexport and Splav 'Spa' to manufacture five versions of Smerch rockets based on the transfer of technology from Russia," the Indian Defence Ministry said in the release. "Smerch rockets are technologically superior having a range of 70-80 kms. After indigenizing the technology of Smerch rockets, OFB will attain new heights in manufacturing of advanced rocket system."
More than two regiments of the Smerch rockets have been in service in the Army after their induction about six years ago, according to the Economic Times. Russia and India have been discussing the local production of Smerch missiles for a while and it is believed that OFB, Ambajhari will be the manufacturing agency, the paper added. OFB Ambajhari is also involved in manufacturing a major chunk of the rockets of the Pinaka Multi-barrel Rocket Launchers (MBRLs) and is working on local production of 155mm 39 calibre Bofors artillery howitzers, according to the ET report.
The two sides also discussed other areas for possible cooperation including license-production of Russian aerospace technology, RIA Novosti said, citing a source.
Cooperation with China
India has traditionally been a major client for Russia's arms industry and its army operates Russian tanks, rocket launchers and small arms. Russia has also called for greater cooperation between the two countries and China. In another press-release on Tuesday, the Indian Defence Ministry said China's Minister of National Defence, General Liang Guanglie will pay an official visit to India from September 2-6. "He will be accompanied by a 23-member delegation, which includes high ranking members of the Chinese defence and military establishment," according to the press release.
The Indian Defence Ministry added that detailed delegation level talks will be conducted between the two sides, in which a number of matters relating to defence and security will be raised. "Enhancement of measures for maintenance of peace and tranquility along the borders and facilitation of confidence building measures between the armed forces of both the countries are expected to be discussed," the ministry said, adding that the "two sides will also discuss measures to promote defence cooperation between their armed forces."
All rights reserved by Rossiyskaya Gazeta.