APEC summit: Businessmen seek closer cooperation with politicians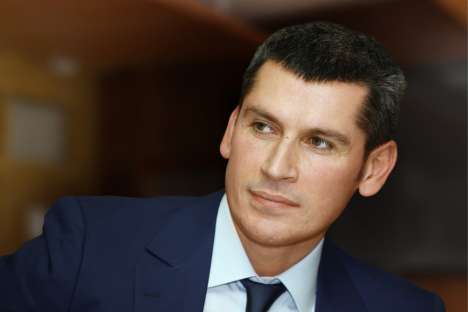 Summa Group Chairman of the Board Ziyavudin Magomedov is representing Russia in APEC Business Advisory Council. Source: Press Photo.
Delegations from over 500 companies are expected to attend the APEC summit to discuss global economic and political threats as well as the shortage of resources. The APEC`s heads of states are expected to join the discussion.
The Asia-Pacific Economic Cooperation summit in Vladivostok on 7-9 September will attract both political and business leaders of member nations comprising the forum. Russian businessmen are concerned over their country's low involvement in business projects launched in the Asia-Pacific region. A poll conducted among APEC businessmen says that Russia should simplify cooperation between business and customs service, invest in infrastructure and rely more on innovations. Experts claim that investing $20-30 billion in infrastructure could result in increased trade volume between the APEC member states up to $600 billion by 2020.
The participants of the APEC Business forum and the APEC Business Advisory Council are going to help politicians make more effective decisions, the ABAC executive director Leila Mamedzade say.
"Businessmen are more pragmatic when it comes to drawbacks in customs system and differences in economies, and they know how to overcome them quickly, cheaply and effectively. Businessmen outline their recommendations in written form to the APEC leaders and hand them in shortly after the APEC CEO (Chief Executive Officer) summit. The Advisory Council meets all the leaders and discusses our recommendations in every detail."
Mrs. Mamedzade stressed that a key task for the ABAC is to create the single economic space by 2020. She also said that practically all initiatives suggested by Russia were backed by the APEC economists and were outlined in letters to the leaders. Russia can get the most out of its presidency in APEC, says Oleg Danilin, Head of Global Financial Services Advisory for Ernst & Young.
"Russia presides over the APEC forum this year, which means a lot to us. It is particularly important since Russia's share in APEC trade is yet too small – 1.5%. So, all initiatives that will be discussed at the forum this time will be aimed at removing infrastructure limits to Russia`s trade with APEC countries and at working together to make Russia a truly reliable and serious partner."
The summit is taking place at the initiative of the presiding country and with active support from the Advisory Council, which comprises 3 businessmen from each member nation, who are appointed by the head of state – in all, 63 representatives from 21 APEC nations. They all are responsible for making decisions to improve the economic integration between the countries. Russia is represented by Oleg Deripaska (chief executive officer of Basic Element company), Ziyavudin Magomedov (Chairman of Summa Group) and Andrey Kostin, head of VTB Bank.
All rights reserved by Rossiyskaya Gazeta.